Exotic Mushroom-Stuffed Turkey Breast
Holiday 2005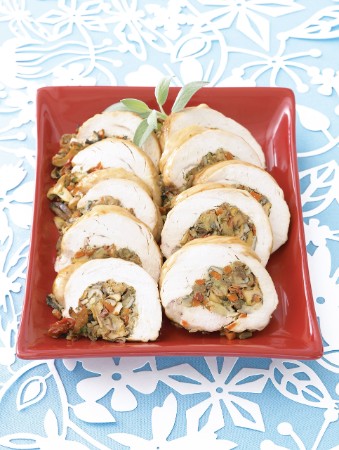 Exotic Mushroom-Stuffed Turkey Breast
Holiday 2005
BY: Emily Richards
No need to roast up an entire turkey. For a smaller crowd, turkey breasts are the perfect option. If more guests show up, double the ingredients and roast 2 breasts on 1 large pan and make all the white meat lovers extremely happy. The intense flavours of mushroom and sundried tomatoes make this turkey delicious and different. You can ask your butcher to bone the turkey breast for you or bone it yourself and save the bones for turkey stock.
¼ cup (50 mL) dried porcini mushrooms
2 tbsp (25 mL) butter
1 shallot, finely chopped
2 cloves garlic, minced
1 stalk celery, finely chopped
1 small carrot, finely chopped
1 lb (500 g) exotic mushrooms, thinly sliced (such as shiitake, oyster, chanterelle)
1 tbsp (15 mL) chopped fresh thyme or 1 tsp (5 mL) dried thyme
¾ tsp (4 mL) each salt and pepper
¼ cup (50 mL) chopped sun-dried tomatoes in oil, drained
2 tbsp (25 mL) chopped fresh Italian parsley
1/3 cup (75 mL) fresh bread crumbs
1 egg
1 boneless turkey breast (about 2½ lbs/1.25 kg)
1 tbsp (15 mL) Dijon mustard
1 cup (250 mL) turkey or chicken stock
1 tbsp (15 mL) cornstarch
1 tbsp (15 mL) water
1. Pour ½ cup (125 mL) boiling water over porcini mushrooms. Let stand for 10 minutes.

2. Melt butter over medium heat and cook shallot, garlic, celery and carrot for 2 minutes. Add exotic mushrooms, thyme, ½ tsp (2 mL) each of the salt and pepper and cook, stirring for 10 minutes or until no liquid remains and mixture is starting to turn golden.

3. Drain porcini mushrooms, reserving liquid and add porcinis to cooked mushroom mixture. Add sun-dried tomatoes, parsley, bread crumbs and egg until well combined. Let cool completely.

4. Cut along thickest part of turkey breast without cutting completely through; open breast like a book. Pound meat slightly to even out breast. Spread inside of turkey breast with mustard and sprinkle with remaining salt and pepper. Spread mushroom stuffing evenly over breast leaving 2-inch (5-cm) border along 1 edge. Roll up breast jelly-roll style.

5. Preheat oven to 325ºF (160ºC).

6. Using kitchen string, tie turkey breast at 2-inch (5-cm) intervals. Place on rack in small roasting pan and roast for 1 hour. Increase oven temperature to 400ºF (200ºC) and cook for about 30 minutes or until thermometer inserted in centre registers 180ºF (82ºC). Remove from oven and place breast on cutting board, and tent with foil.

7. In a small saucepan, bring chicken stock, reserved mushroom liquid and any pan juices to boil. Boil for 2 minutes for flavours to combine. In a small bowl, whisk together cornstarch and water. Whisk into chicken stock mixture and boil, stirring for 1 minute or until thickened slightly and glossy. Pour into gravy boat.

8. Slice turkey into ½-inch thick (1-cm) slices and drizzle with gravy.
SHARE