Ethiopian Fish Kebabs
Early Summer 2017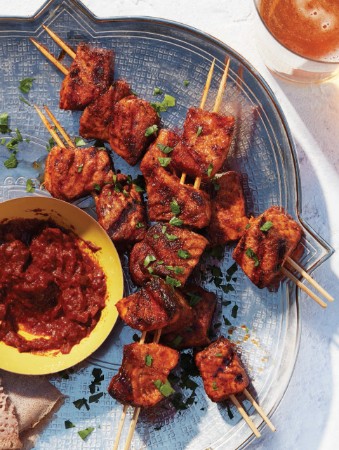 Ethiopian Fish Kebabs
Early Summer 2017
BY: Lucy Waverman
Use a firm-flesh fish for kebabs so they do not fall apart on the grill. Pickerel, salmon, halibut and sea bass all work well. This would typically be served in injera, which is a fermented flat bread, but I serve it with brown rice and a salad.
SAUCE
2 tbsp (30 mL) olive oil
½ cup (125 mL) chopped red onion
Salt
¼ cup (60 mL) Berbere (recipe follows)
1 tbsp (15 mL) chopped garlic
1 tbsp (15 mL) rice vinegar
1 cup (250 mL) canned tomatoes, puréed with some juice

FISH
2 lbs (1 kg) fish fillets cut into 1½ inch (4 cm) cubes
2 tbsp (30 mL) olive oil for grilling
2 tbsp (30 mL) Berbere
1. Heat oil in a skillet over medium heat and add onion. Sprinkle with salt and sauté until onion loses its juice and seems a bit dry, about 2 minutes. Add Berbere spice mix and garlic and cook another minute. Add vinegar then reduce heat to medium-low and cook, stirring, until berbere darkens slightly, about 2 minutes. Stir in tomatoes and bring to boil. Simmer for 10 to 12 minutes or until sauce is thick and dark. Reserve and rewarm when needed.

2. Heat grill to medium-high. Gently toss fish with oil and Berbere. Push fish gently on to kebabs. Grill for about 2 minutes a side (about 5 to 6 minutes total) or until cooked through and still moist in centre. Place on platter and serve with the sauce.
SHARE