Essence of Mushroom Soup
Hiver 2001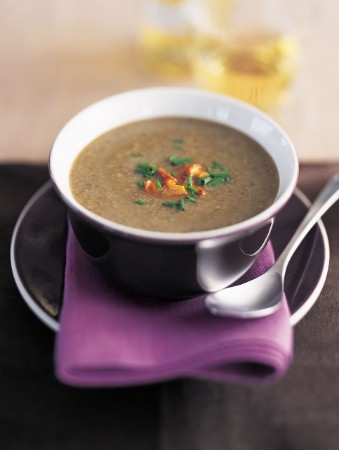 Essence of Mushroom Soup
Hiver 2001
BY: Lucy Waverman
A rich mushroom soup with only traces of fat in it. The more kinds of mushrooms you use the better the soup will be. Streak low-fat yoghurt or sour cream across the surface of the soup, if desired.
½ cup (125 mL) dried porcini mushrooms
1 cup (250 mL) hot water
1 tbsp (15 mL) olive oil
¾ cup (175 mL) green onions, chopped
1 lb (500 g) mixed wild mushrooms, chopped
8 oz (250 g) brown mushrooms, chopped
1 tbsp (15 mL) chopped fresh tarragon or 1 tsp (5 mL) dried
4 cups (1 L) chicken stock
Salt and freshly ground pepper
1 tbsp (15 mL) soy sauce
1 tbsp (15 mL) lemon juice
¼ cup (50 mL) chopped chives
1. Soak dried mushrooms in hot water for 30 minutes. Strain, reserving mushrooms and liquid separately.

2. Heat oil in large pot on medium-high heat. Add green onions and alll mushrooms and sauté for 3 minutes or until mushrooms begin to lose their juices. Remove some mushrooms for garnish.

3. Add tarragon, stock and soaking liquid. Bring to boil, reduce heat and cook 10 minutes or until all vegetables are tender. Season with salt, pepper, soy sauce and lemon juice.

4. Purée soup in blender or food processor. Return to pot, bring to boil and simmer, 5 minutes to combine flavours. If soup is too thick, thin with a little stock or water.

5. Garnish with chives and reserved mushrooms.
SHARE