Eggplant Chips with Tzatziki
Autumn 2019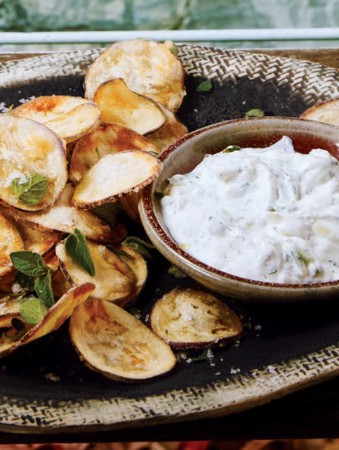 Eggplant Chips with Tzatziki
Autumn 2019
BY: Amy Rosen
This recipe is a tip of the Greek hat to Estiatoria Milos in Montreal, a Greek taverna where the specialty is fresh fish and seafood, but its starter of fried, thinly sliced vegetables can be seen on just about every table in the restaurant. I think it's the unusual frying technique that makes these so irresistibly crispy, light and airy, and when dipped in fresh tzatziki—opa!
TZATZIKI
½ tsp (2 mL) sea salt
½ English cucumber, seeded and shredded
1 container (500 g) 2% Greek yogurt
2 small garlic cloves, minced
­¼ cup (60 mL) fresh dill, finely chopped
1 tbsp (15 mL) extra virgin olive oil
Black pepper, to taste
EGGPLANT CHIPS
½ cup (125 mL) vegetable oil, for shallow frying
3 small graffiti eggplants, sliced paper-thin, preferably with a mandoline
½ cup (125 mL) flour
Sea salt to taste
2 tbsp (30 mL) fresh oregano, roughly chopped
1 Sprinkle salt on shredded cucumber and set aside in a colander for half an hour to drain.
2 In a separate bowl, combine yogurt, garlic, dill, olive oil and black pepper. Stir and refrigerate.
3 Dry the cucumber by gently squeezing it between paper towels and combine with yogurt mixture. Stir well and refrigerate until serving. (It's actually better the next day.) Store any le­ftover tzatziki in an airtight container in the fridge for up to a week.
4 Heat oil in a large heavy-bottom saucepan over medium heat.
5 Place eggplant slices in a bowl of warm water. Remove a few slices at a time, shake off excess water, coat with flour and shake off excess flour. Dip slices back in the water and then carefully lay them away from you in the hot oil. Warning: the water will cause the oil to splatter a bit. Fry chips for about 5 minutes, using a slotted spoon to move them around and flip so that they cook evenly and don't stick together. Once golden brown, remove and drain on paper towels. Sprinkle with salt. Repeat until all eggplant slices are cooked.
6 To serve, place a mound of tzatziki in a bowl on a serving platter, then stack the eggplant chips around it. Sprinkle with oregano. Serve at once.
SHARE