Egg and Potato Salad
Printemps 2005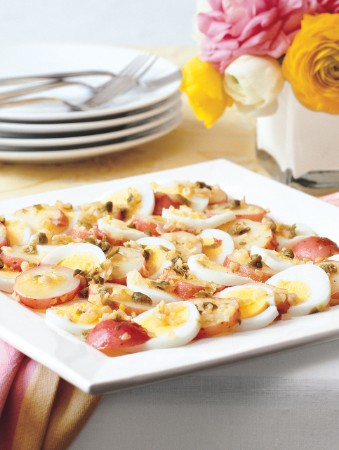 Egg and Potato Salad
Printemps 2005
BY: Jennifer McLagan
Potatoes and eggs are a good match. This makes a good side dish or an appetizer topped with smoked fish.
Dressing
1 shallot, finely chopped
1 tbsp (15 mL) Dijon mustard
1 tbsp (15 mL) lemon juice
5 tbsp (75 mL) olive oil
1 tbsp (15 mL) chopped capers
Freshly ground salt and pepper
1 lb (500 g) new red potatoes
3 eggs at room temperature
1. Whisk the shallot, mustard and lemon juice together. Slowly whisk in olive oil, stir in the capers and then season with salt and pepper.

2. Simmer the potatoes in salted water until just cooked, then cut into ¼-inch (5-mm) slices while still warm and place in a single layer in a large dish. Whisk the dressing again, then pour three quarters of the dressing over the potatoes and toss gently to coat.

3. Place the eggs in a saucepan and cover with cold water. Bring to the boil, then remove from the heat, cover and leave for 15 minutes. Then remove the eggs and rinse under cold water. Peel the eggs and slice them.

4. Arrange the slices of potato and egg on a serving dish and spoon over the remaining dressing.
SHARE