Pulled Turkey with Bourbon BBQ Sauce
Holiday 2013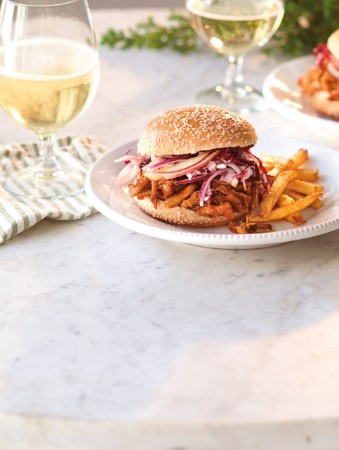 Pulled Turkey with Bourbon BBQ Sauce
Holiday 2013
BY: Signe Langford
When we hear "pulled" we automatically think of pork. Not only is this slow-and-low recipe delightfully seasonal and outrageously tasty, it's a little lighter too. While the succulence of pulled pork comes from fat, our version uses tasty liquids instead.
1 tsp (5 mL) ground sage
1 tsp (5 mL) poultry seasoning
1 tsp (5 mL) garlic powder
2 tsp (10 mL) onion powder
1 tsp (5 mL) cayenne pepper
1 tsp (5 mL) smoked paprika
1 tsp (5 mL) sea salt
1 tsp (5 mL) black pepper
¼ cup (60 mL) brown sugar
1 skin-on, bone-in turkey breast, just shy of 2 lbs (1 kg)
1/3 cup (80 mL) chicken broth
1/3 cup (80 mL) unsweetened cranberry juice
¼ cup (60 mL) bourbon
2 bay leaves
1 sprig rosemary
1 sprig sage
Bourbon Barbecue Sauce (recipe follows)
6 buns (hamburger, brioche or onion)
Five Reds Slaw (recipe follows)
1 To make the rub, add all dry spices, salt, pepper and brown sugar to a small bowl and whisk to blend well.

2 Rub as much of the spice mix as it takes to thoroughly coat the turkey breast all over. Refrigerate, covered, and let marinate for at least 4 hours but preferably 24.

3 Preheat oven to 300°F (150°C).

4 Place turkey in a small, covered roasting pan (foil will do) and add the chicken broth, cranberry juice, bourbon, bay leaves, rosemary and sage. Cover and roast for about 4 hours or until juices run clear. Try to resist peeking; you don't want to let out that moist steam!

5 While the turkey is slow roasting, make the Bourbon Barbecue Sauce.

6 When the turkey is finished roasting, lift the lid and let cool. Once cool enough to handle, pull the meat apart with clean hands and add to a large bowl. To the pulled turkey, add 1¼ cups (300 mL) Bourbon Barbecue Sauce and mix until well coated.

7 To serve, load each bun—toasted or not, your choice—with pulled turkey, and top with Five Reds Slaw. Offer the extra barbecue sauce at the table.

BOURBON BARBECUE SAUCE

Super easy and super tasty! Store leftovers in a jar in the refrigerator for up to a week.

2 tbsp (30 mL) butter
1 small onion, finely diced
1 cup (250 mL) ketchup
¼ cup (60 mL) apple cider vinegar
½ cup (125 mL) maple syrup
1/3 cup (80 mL) bourbon
¼ cup (60 mL) Dijon mustard
3 tbsp (45 mL) hot pepper sauce
2 tbsp (30 mL) Worcestershire sauce
2 tsp (10 mL) smoked paprika
1 tsp (5 mL) garlic powder
1 tsp (5 mL) onion powder
1 tsp (5 mL) ground ginger
1 In a large, heavy-bottom pot, over medium-high heat add butter and onion, and cook until onion softens, about 5 minutes.

2 Add the remaining ingredients, stirring well—use a whisk to break up any spice clumps—and bring to a gentle boil.

3 Reduce heat to medium-low and simmer, uncovered, until sauce thickens. Stir often so the sugars in the sauce don't stick and
burn. Continue to simmer and stir for about 15 minutes.

FIVE REDS SLAW

The bitterness of the radicchio is a wonderful counterpoint to the sweet bourbon sauce but if it's not available where you are, substitute with ½ head of red cabbage. Don't own a mandolin? The single blade of most box graters  is perfect for "shaving."

1 head radicchio
1 small red onion
3 radishes
1 red-skinned apple
½ red pepper
1/3 cup (80 mL) good mayonnaise, preferably made with free-run eggs
3 tbsp (45 mL) apple cider vinegar
1 tsp (5 mL) Dijon mustard
Sea salt and pepper to taste
1 Using a mandolin, box grater or very sharp knife, very thinly slice radicchio, onion, radishes and apple, and finely dice the pepper.
Set aside.

2 In a large, non-reactive bowl, using a whisk, combine the mayonnaise, vinegar, Dijon, salt and pepper.

3 Add the vegetables to the bowl and toss to coat evenly with dressing.
SHARE