Easy Party Enchiladas With Jalapeño Cream
Winter 2011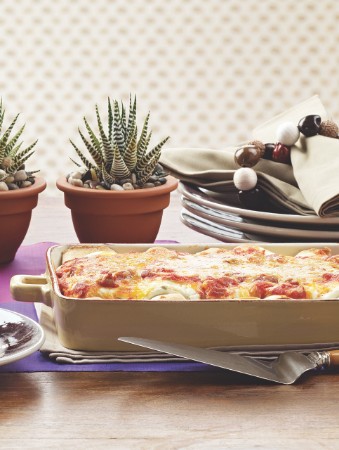 Easy Party Enchiladas With Jalapeño Cream
Winter 2011
BY: Monda Rosenberg
The hardest part of making this easy-eating dish is rolling the spicy beef filling in the tortillas.Then they're baked under a blanket of tasty salsa swirled with sour cream and melting cheese. Although we've taken shortcuts and they're not searingly hot, the result is a very Mexican-tasting casual dinner.
1 small jalapeño, seeded
2 cups (500 mL) regular sour cream (14% b.f.)
1½ cups (375 mL) coarsely chopped cilantro leaves
3 cups (750 mL) grated Monterey Jack or mozzarella or mild cheddar, about 10 oz (300 g)
1 tbsp (15 mL) ground cumin
2 tsp (10 mL) dried leaf oregano
½ tsp (2 mL) chili powder
½ tsp (2 mL) salt
2 tsp (10 mL) vegetable oil
2 lbs (1 kg) ground beef, preferably medium
1 jar (650 mL) of medium or hot salsa,
about 2½ cups (625 mL)
12 medium flour tortillas, about
7 inches (18 cm) wide, or 1 pkg (340 g)
1 If not making ahead, preheat oven to 425°F(220°C).

2 Lightly oil or spray the bottom and sides of two 7 x 11-inch (2-L) baking dishes or 1 large dish that will hold 12 rolled and filled tortillas.A 9 x 13-inch (3-L) dish is a little too small. Finely chop jalapeño and stir into sour cream. Coarsely chop cilantro. Grate cheese. Measure all the seasonings into a small dish.

3 Set a large deep frying pan over medium heat. Add the oil. When hot, crumble in meat.Sprinkle with all the seasonings. Cook just until a little pink remains, working almost constantly with 2 forks or spatulas to keep meat from forming clumps, about 5 minutes. Drain off all excess liquid. Stir in 1 cup (250 mL)each of salsa, cheese and cilantro.

4 If using 2 pans, spread about a ¼ cup (50 mL) salsa over the bottom of each as best you can. Place tortillas on a counter. Scoop a generous ½ cup (125 mL) of meat mixture across the bottom half of each, dividing filling evenly. Working with 1 tortilla at a time, form filling into a log reaching from side to side and then, starting at the bottom, roll tortilla tightly around the filling. Make sure it reaches right to the edges of the tortilla. Place seam-side down in the baking pan, laying it against the short side of the dish. Repeat with remaining tortillas placing snugly side by side in both dishes. Gently press down on tortillas to even out filling. Tuck any remaining filling into the open ends of the enchiladas.

5 If not making ahead, spoon about ¾ cup (175 mL) of jalapeño-cream over tortillas in each pan. The easiest way to do this is in3 long lines down the centre of the enchiladas.Gently spread to roughly cover the tops. Spoon the remaining salsa down the middle, dividing evenly between pans. Spread to sparsely cover. Sprinkle with remaining cheese. Bake, uncovered, at 425°F (220°C) until puffed and golden, 25 to 30 minutes.

6 If making ahead, do not top rolled enchiladas.Simply cover with plastic wrap and refrigerate up to a day. Remove the dish from the refrigerator about an hour before baking. Top with jalapeño-cream and then salsa, following directions in step 5 above. Preheat oven to 375°F (190°C). Bake, uncovered, until puffed and golden, 40 to 45 minutes.

7 To serve, slip a wide spatula under 2 enchiladas at once and lift to dinner plates. Spoon some of the remaining jalapeño-cream over the centres and sprinkle with remaining cilantro.


SHARE