Easy Green Salad
Spring 2006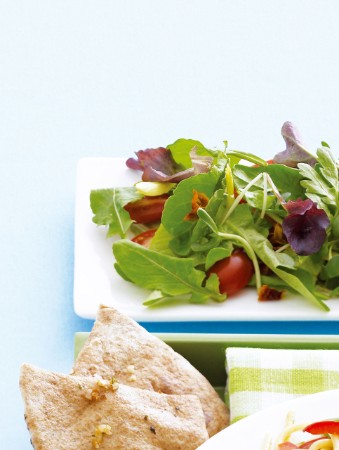 Easy Green Salad
Spring 2006
BY: Emily Richards
Double or triple the vinaigrette recipe and keep it refrigerated to toss with a salad for another night. Keep bagged mesclun or spring mix in the fridge for a quick salad.
2 tsp (10 mL) extra virgin olive oil
1 tbsp (15 mL) apple cider vinegar
½ tsp (2 mL) Dijon mustard
Pinch chopped fresh thyme
Salt and pepper
1½ cups (375 mL) mixed salad greens
6 grape tomatoes
2 fresh basil leaves, chopped (optional)
1. Whisk together oil, vinegar, mustard, thyme, pinch each of salt and pepper in bowl.

2. Add salad greens, tomatoes and basil leaves, if using, and toss to coat well.
SHARE