Easter Ham with Roasted Veggies, Apples & Pecans in a Spicy Rye-&-Maple Glaze
Spring 2017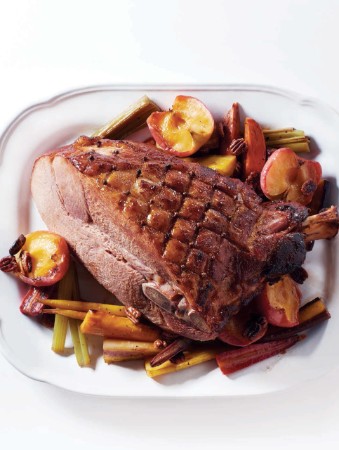 Easter Ham with Roasted Veggies, Apples & Pecans in a Spicy Rye-&-Maple Glaze
Spring 2017
BY: Signe Langford
For the best flavour and juiciness, bone-in ham is best; pick a ham with a generous fat cap. For an extra level of juicy sweetness, we've braised the ham in maple water (sap) first, then finished with a maple-syrup-and-rye glaze. Maple water can be found at health food and gourmet shops, but the same amount of ginger ale will work just as well. Sriracha is a deliciously nuanced hot sauce, available everywhere. For a nice level of heat, stick with 1 tbsp (15 mL), but if you like it hot, hot, hot, go for 2. Ham or no ham, this glaze will become your secret weapon for veggies, poultry or beef ribs. Save the ham bone for soup! In fact, be a little generous and leave some meat on it; it's just the thing to start a beautiful French Canadian pea soup.
1 fully or semi-cooked, bone-in, smoked ham, 8 lbs (3.5 kg), (cooking time will not change)
Approx. 25 whole cloves
Oil, butter or spray
3 leeks, tough green parts and roots removed, cut in half widthwise, then in half again lengthwise
3 to 4 heirloom or regular carrots, peeled, trimmed and cut in half widthwise, then in half again lengthwise
3 to 4 stalks celery, cut in half widthwise
1 to 2 sweet potatoes, peeled, cut into wedges about the same thickness as the carrots
Freshly ground black pepper to taste
1 cup (250 mL) maple water (sap) or ginger ale, divided
½ cup (125 mL) rye whisky, divided
½ cup (125 mL) low-sodium chicken or vegetable stock
¼ tsp (1 mL) freshly grated nutmeg
2 tbsp (30 mL) butter
½ cup (125 mL) maple syrup
1 to 2 tbsp (15 to 30 mL) sriracha
3 large apples, halved and cored
½ cup (125 mL) raw pecan halves
1. Preheat oven to 350°F (180°C).

2. With the tip of a very sharp knife, crosshatch the surface or fat cap of the cold ham. Stick the whole cloves into the ham in a random pattern but evenly distributed; make sure to place a few cloves into the centre of a few of the fat "diamonds." Set aside to come to room temperature. Lightly oil, butter or spray the bottom of a large roasting pan so the vegetables won't stick. Arrange the cut vegetables in the pan to create a "raft" for the ham to sit on. Season with black pepper to taste.

3. Set the ham on top of the vegetable raft and pour in ½ cup (125 mL) of the maple water (or ginger ale), ¼ cup (60 mL) of the rye, and all of the broth. Season the ham all over with more black pepper to taste and the freshly grated nutmeg. When adding the liquids, I like to pour the maple water (or ginger ale) all over the ham; this moistens the surface and helps the pepper and nutmeg to stick.

4. Cover with either a lid or foil and braise in oven for 1½ hours. While ham is braising, make the glaze.

5. In a small saucepan over medium-high heat, add the butter, maple syrup, remaining ½ cup (125 mL) maple water (or ginger ale), sriracha, and remaining ¼ cup (60 mL) of the rye; stir to melt and combine. Be careful during this step, as the rye may ignite. It's fine if it does, just mind your safety! Bring to a gentle boil for about 15 minutes—stirring often—until the glaze has thickened to the consistency of maple syrup and has reduced to about ½ cup (125 mL). Set aside.

6. After 1½ hours, turn oven heat up to 450°F (230°C).

7. Remove cover or foil from roasting pan, arrange the apples and pecan halves around the ham and, with a pastry brush, baste the ham all over with one-third of the glaze. Pop back into the oven for another 10 minutes. If the very top of the ham darkens too quickly, loosely tent with foil. Remove and baste 2 more times, with 10 minutes in between; use up all the glaze, for a total of 30 minutes at 450°F (230°C).

8. When nicely glazed and golden, transfer ham to a serving platter, surround with the roasted vegetables, apples and pecans, or transfer the roasted veggies and pan juices to a vegetable dish and bring to the table with the ham. Spoon the pan juice over the ham slices; it's sweet, spicy and delicious!
SHARE