Dumplings with Crispy Sage & Sherry Brown Butter
Hiver 2012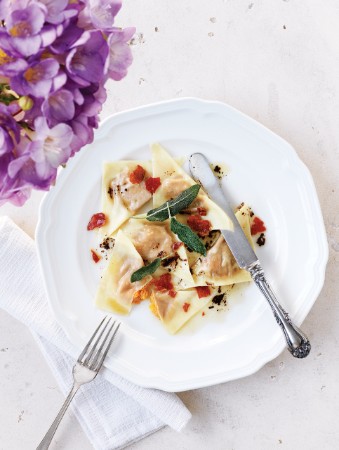 Dumplings with Crispy Sage & Sherry Brown Butter
Hiver 2012
BY: LeeAnne Wright
This is a fabulous starter for a winter dinner party. Make the dumplings ahead and when you are ready to sit down they are done in no time at all. Double the recipe if you want to serve them as a main course. You can also boil the dumplings and freeze on a sheet pan then transfer to a freezer bag.
2 medium sweet potatoes, totalling 1 lb (500 g)
8 tbsp (120 mL) unsalted butter, divided 1½ oz (45 g) blue cheese1 tsp (5 mL) salt
¼ tsp (1 mL) freshly ground pepper
¼ tsp (1 mL) ground cinnamon
¼ tsp (1 mL) freshly ground nutmeg
30 wonton wrappers
1 egg white, lightly beaten (2 tbsp/30 mL)
18 fresh sage leaves
3 thin slices prosciutto, about 1¾ oz (55 g), torn into 1-inch (2.5-cm) shreds
3 tbsp (45 mL) sherry vinegar
1 Preheat oven to 400°F (200°C).

2 Pierce potatoes with a fork; place on a baking sheet. Bake for 50 to 60 minutes or until very tender and soft.

3 Peel sweet potatoes and mash in a bowl. Melt 2 tbsp (30 mL) butter and combine with sweet potato, cheese, salt, pepper and spices.

4 Working with 1 wonton wrapper at a time (cover remaining wrappers with plastic wrap and a moist paper towel to keep them from drying out) brush edges of wrapper with egg white. Spoon a scant 1 tbsp (15 mL) potato mixture into centre of each wrapper and press edges together to seal, forming a triangle. Make sure all air pockets have been pushed out or dumplings will burst when boiled. Trim dumplings if edges are uneven. Repeat, filling and sealing dumplings with remaining wonton wrappers. Cover dumplings with plastic wrap and chill until ready to cook.

5 Melt remaining butter in a large skillet over medium-high heat. When butter stops foaming, add sage leaves and fry until crisp but still green, about 1½ minutes. Transfer sage to paper towel to drain. Increase heat and fry prosciutto until crisp, about 3 minutes. Drain and crumble.

6 Reduce heat to medium (it should not be smoking) and continue heating butter until it turns brown; about 3 minutes (adjust heat as needed). Keep butter warm over low heat while cooking dumplings.

7 Bring a large pot of salted water to a boil. Add 15 dumplings to pot at a time and cook 2 minutes; dumplings will float to top of water when done. Drain well and transfer to a lightly greased platter and keep warm. Repeat procedure with remaining dumplings.

8 When all dumplings are cooked, increase heat to high to warm brown butter. After 60 seconds remove pan from heat, add sherry vinegar and cover pan with lid to contain sputtering. When pan stops sputtering, season sauce with a pinch of salt and a few grinds of black pepper. Serve 5 dumplings per serving, drizzle with spoonful of hot brown butter sauce and garnish with crumbled prosciutto and crispy sage leaves.

SHARE