Dukkah-Dusted Carrot Fritters
Autumn 2015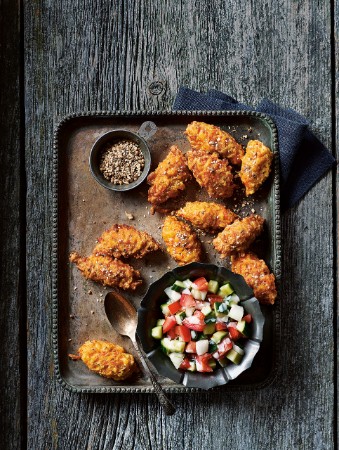 Dukkah-Dusted Carrot Fritters
Autumn 2015
BY: Amy Rosen
Dukkah is a delicious Egyptian spice blend that can be found at Middle Eastern grocery shops. If you can't find it, I'm including a bonus recipe for making your own. It gives a warming, exotic twist to these easy carrot fritters. The Israeli salad too, is a simple taste of the Middle East.
1 cup (250 mL) all-purpose flour
½ tsp (2 mL) salt
¼ tsp (1 mL) black pepper
1 tsp (5 mL) baking powder
¼ cup (60 mL) Dukkah (recipe follows)
2 large eggs
½ cup (125 mL) water
1 tsp (5 mL) olive oil
3 cups (750 mL) shredded carrots (about 3 carrots)
Vegetable oil for deep-frying
1 In a large bowl, combine flour, salt, pepper, baking powder and Dukkah. In another bowl, whisk the eggs, water and oil; stir into dry ingredients until just moistened. Fold in carrots.

2 Heat 2 to 3 inches (5 to 8 cm) of oil in a large, heavy-bottom skillet with high sides to 350° to 365°F (180° to 185°C). Using
2 soup spoons to make 12 oval-shaped quenelles, drop batter into hot oil, making sure not to crowd the pan. Fry until golden brown, about 2 minutes on each side. Remove with a slotted spoon or tongs to paper towel to drain. Add a small bowl of Dukkah to the
table for more sprinkling. Serve with Israeli Salad (recipe follows).

DUKKAH

Stores well in an airtight container in the fridge for up to a month.

½ cup (125 mL) cashew pieces (pistachios, almonds and hazelnuts are also nice), toasted and completely cooled
3 tbsp (45 mL) sesame seeds
¼ cup (60 mL) coriander seeds
2 tbsp (30 mL) cumin seeds
½ tsp (2 mL) dried mint
1 tsp (5 mL) kosher salt
¼ tsp (1 mL) black pepper
1 Combine all ingredients in a food processor and pulse until coarse and crumbly. (You can also use a mortar and pestle). Add mixture to a medium nonstick skillet and toast gently, stirring constantly on medium-low until just aromatic, about 2 minutes. Remove from pan and set aside to cool.
Makes about 1 cup (250 mL)

ISRAELI SALAD

Like most Israelis, my Auntie Irit has been making a version of this salad her whole life. It couldn't be simpler or more refreshing, and like the carrot fritters, is an authentic taste of the Middle East. I've added a simple tahini dressing for added richness but if you're a purist, feel free to leave it out.

3 large juicy tomatoes, diced
1 English cucumber, seeded and diced
¼ large sweet onion, diced
Juice of a lemon, divided
½ tsp (2 mL) salt
¼ tsp (1 mL) black pepper
1 tbsp (15 mL) olive oil
1 tbsp (15 mL) tahini
1 tbsp (15 mL) water
Pinch of sugar
1 To a large bowl add tomatoes, cucumber, onion, half of lemon juice, salt and pepper.

2 In a smaller bowl, stir together olive oil, tahini, water, remaining lemon juice and sugar until creamy and combined. Drizzle over salad just before serving.
SHARE