Duck Ragout Lasagna
Winter 2016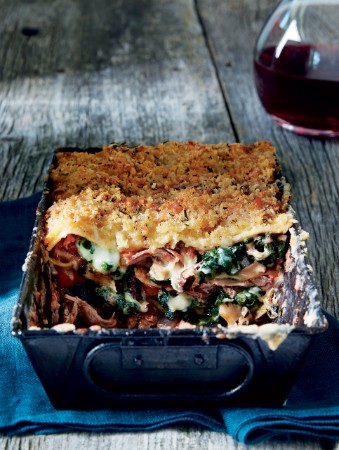 Duck Ragout Lasagna
Winter 2016
BY: Amy Rosen
For those times when you want a heartwarming meal but don't feel like eating duck lasagna for the rest of the week, behold—lasagna for two in a loaf pan! A quick duck ragout, spiked with port and layered with spinach, shiitakes and fontina cheese, is finished with béchamel sauce and a crunchy topping. It's not as heavy as it sounds, which means you may regret only making enough for one meal. Sorry about that.
1 cup (250 mL) dried shiitake mushrooms
2 tbsp (30 mL) olive oil
1 small cooking onion, diced
1 carrot, diced
1 celery rib, diced
1 cup (250 mL) fine ruby port
1 can (398 mL) diced tomatoes
1 bay leaf
½ Chinese roast duck, skin and bones discarded, about 1½ cups (375 mL) meat
¼ tsp (1 mL) salt plus more to taste
1 pkg (360 g) no-boil fresh lasagna noodles
1 pkg (300 g) frozen cut leaf spinach, defrosted, drained and squeezed dry
Scant 8 oz (230 g) fontina cheese, about 2 cups (500 mL), shredded, divided
1 tbsp (15 mL) butter
1 tbsp (15 mL) flour
½ cup (125 mL) milk
4 tbsp (60 mL) Parmesan, shredded, divided
¼ tsp (1 mL) pepper
½ cup (125 mL) Panko bread crumbs
2 tsp (10 mL) minced fresh rosemary
Drizzle of olive oil
1 Preheat oven to 350°F (180°C).

2 Grease loaf pan and set aside. Put the kettle on to boil, then pour boiling water over dried shiitakes and let steep for 10 minutes.

3 To a medium saucepan over medium heat, add olive oil, onion, carrot and celery. Sauté for 5 to 10 minutes, or until vegetables soften and start to take on colour. Add port, tomatoes and bay leaf, bring to a boil, then reduce to a simmer and let cook, uncovered, for 10 minutes, stirring occasionally. Add duck, stir, and cook for 2 minutes more. Remove bay leaf, taste for seasoning and add salt if needed.

4 Trim 3 lasagna noodles so that they'll fit snugly into loaf pan. (Reserve remaining noodles for another meal. You can even slice them lengthwise to make fresh fettuccine.)

5 Drain mushrooms, squeeze dry and roughly chop. Add to a bowl and stir together with drained spinach, 1 cup (250 mL) of shredded fontina cheese and ¼ tsp (1 mL) salt.

6 In a small pot over medium heat, whisk together butter and flour. Let the mixture toast and bubble for a minute, then whisk in milk and 2 tbsp (30 mL) Parmesan. Whisk until thickened and smooth. Stir in pepper. This is your béchamel sauce.

7 In a small bowl, stir together Panko with remaining 2 tbsp (30 mL) Parmesan and rosemary.

8 It's time to build the lasagna. Spoon ½ cup (125 mL) of duck ragout evenly across the bottom of the pan. Top with a noodle. Add half the spinach mixture and top with ½-cup (125 mL) more ragout and some shredded fontina. Press down firmly. Add second noodle and repeat process. Press down firmly. Add third noodle and top with béchamel sauce, remaining fontina plus the Panko mixture. Press down firmly and drizzle with olive oil.

9 Place loaf pan in the middle rack of the preheated oven, uncovered, for 35 to 40 minutes, or until bubbling and golden on top. Let stand10 minutes before serving.
SHARE