Duck Legs Braised in Syrah with Plums, Vanilla & Anise
Autumn 2009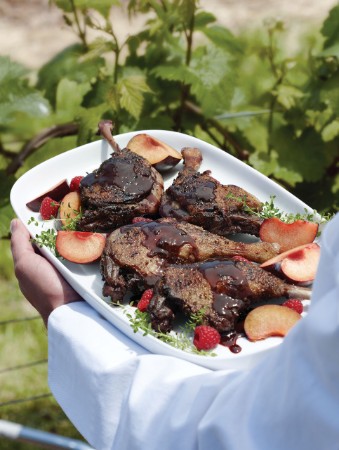 Duck Legs Braised in Syrah with Plums, Vanilla & Anise
Autumn 2009
BY: Ross Midgley
You will need a large Dutch oven or a roasting pan that is big enough to hold the legs in a single layer for this recipe. Ideally, this dish should be made a day ahead so that you can chill the braising liquid, making the fat easy to remove the next day.
Dry Rub
1 tsp (5 mL) black peppercorns, cracked
1 tsp (5 mL) crushed juniper berries
2 tsp (10 mL) coriander seeds, toasted and cracked
2 tbsp (25 mL) chopped fresh thyme
1 tbsp (15 mL) kosher salt
8 Moulard duck legs, thighs attached, skin on, excess fat trimmed

Sauce
2 shallots, sliced
½ cup (125 mL) fresh raspberries
8 oz (250 g) black plums, pitted and diced
2 cups (500 mL) Southbrook Triomphe Syrah
2 bay leaves
2 cups (500 m L) chicken stock
2 tbsp (25 mL) balsamic vinegar
¼ cup (50 mL) sugar
2 star anise
1 vanilla bean, split lengthwise
1. Combine dry rub ingredients in a bowl or large sealable bag that can accommodate all 8 duck legs. Add duck legs and cover with mixture. Seal or cover and refrigerate overnight.

2. Pre-heat oven to 325°F (160°C).

3. Heat a large Dutch oven or other large heavy pot over medium-high heat. Working in batches, sear legs, skin-side down, for 5 minutes or until skin is crisp and golden. Turn and sear another 2 minutes, pouring fat out of pan as it accumulates. Remove duck legs and set aside.

4. Return 1 tbsp (15 mL) of reserved fat to Dutch oven, add shallots and cook for 2 minutes or until softened and slightly browned. Add raspberries, plums, Syrah, bay leaves, stock, balsamic vinegar, sugar, star anise and vanilla, bring to boil and boil rapidly for 10 minutes. Add reserved duck legs and cover with a tight-fitting lid or aluminum foil.

5. Place pot in oven and gently cook for 2 hours or until flesh is falling from the bone. Chill overnight.

6. Preheat oven to 350°F (180°C).

7. Just before serving, remove duck legs from pot and place, skin-side up, on an oiled baking sheet and bake for 15 minutes. Turn on broiler and broil legs, watching carefully, for about 4 minutes or until skin is very crispy.

8. Strain solids from liquid and skim off any remaining fat. Place remaining liquid in a saucepan and reduce over medium heat until liquid has a sauce consistency, about 3 to 5 minutes. Pour sauce over and around crispy duck legs.
Serves 4 to 8 depending on size of duck legs
SHARE