Duck Confit with Braised Red Cabbage
Temps des Fêtes 2005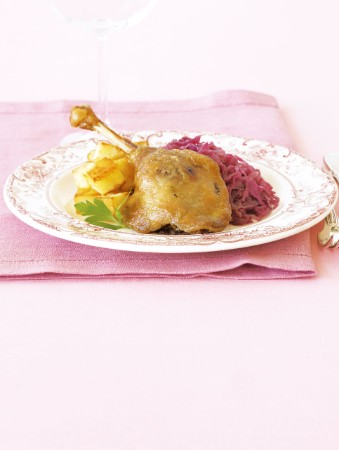 Duck Confit with Braised Red Cabbage
Temps des Fêtes 2005
BY: Lucy Waverman
Duck confit (duck that has been brined and cooked very slowly in duck fat) has become very popular on restaurant menus. Today, you can buy duck confit in butcher shops, specialty food stores and some supermarkets. If confit is unavailable, you can make the same dish using chicken legs. Sauté them on top of the stove until browned, then roast for 40 minutes in a 400ºF (200ºC) oven. Serve with diced roasted potatoes.
1 head of red cabbage, approximately 3 lb (1.5 kg)
1 tbsp (15 mL) salt
2 tbsp (25 mL) butter
1 tbsp (15 mL) vegetable oil
1 large red onion, thinly sliced
Salt and freshly ground pepper
1 bay leaf
3 cloves
Pinch allspice
1 cup (250 mL) red wine
¼ cup (50 mL) red wine vinegar
2 tbsp (25 mL) brown sugar
2 tbsp (25 mL) balsamic vinegar
4 confit duck legs
1. Cut cabbage in quarters and remove core. Use a sharp knife or a mandolin to thinly slice cabbage quarters. Put cabbage into a large colander and toss with salt. Leave for 1 hour. This helps to keep its colour. Drain any liquid off and pat cabbage with paper towel to remove excess salt.

2. Heat butter and oil over medium-high heat in a Dutch oven or other large heavy pot. Add sliced onion and sauté until softened, about 2 minutes. Add red cabbage and sauté until coated with oil. Season with salt and pepper to taste, and then add the bay leaf, cloves and allspice.
3. Pour in red wine, red wine vinegar and sprinkle in sugar. Bring to boil, stirring occasionally. Turn heat to low, cover and cook for 45 minutes or until tender. Taste for seasoning and sprinkle with balsamic vinegar.

4. Preheat oven to 450ºF (230ºC).

5. While cabbage is cooking, heat a nonstick skillet over medium-high heat. Add duck legs skin-side down and cook for 1 minute. Turn over and bake for 10 minutes or until duck is hot.

6. Serve legs nestled on cabbage.
SHARE