Duck Confit & Springtime Hash with Fried Duck Egg
Printemps 2015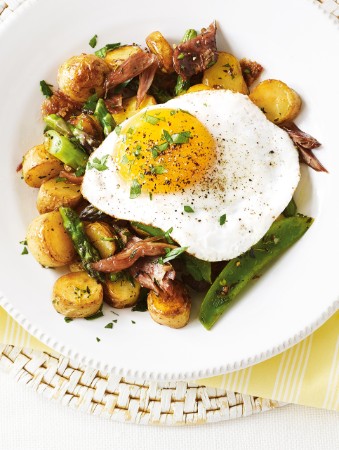 Duck Confit & Springtime Hash with Fried Duck Egg
Printemps 2015
BY: Eshun Mott
This hash is heavy on the potatoes and springtime vegetables; the bright green flavour of asparagus and sugar snap peas is a perfect contrast to the rich duck meat and egg yolk.
1½ lbs (750 g) fingerling or mini new potatoes,
cut into ¾-inch-thick (2-cm) rounds
2 duck legs confit, about 9 oz (275 g)
1 tbsp (15 mL) unsalted butter
Salt to taste
1 lb (500 g) asparagus, tough ends trimmed and cut on the bias into
1½ inch (4 cm) lengths
6 oz (175 g) sugar snap peas, ends trimmed, stringed
1 tbsp (15 mL) chopped garlic
1 tsp (5 mL) chopped fresh thyme
2 tbsp (30 mL) chopped parsley
1 tbsp (15 mL) unsalted butter
4 duck eggs
Pepper to taste
1 Place potatoes in a pot of cold salted water over medium-high heat. Bring to a boil and boil for 8 minutes or until tender. Drain well. Reserve.

2 Place duck legs, skin-side up, in a large frying pan (ideally cast iron) over medium-low heat. Cook for 12 minutes, turning after fat has begun to render, or until duck is warmed through. Pull meat from bones in largest possible pieces and return skin and any fat to pan. Cook skin for 10 minutes longer or until browned and crisp. Remove from pan, chop and reserve, leaving fat in pan.

3 Add butter and potatoes to pan, season with salt, and cook on medium, turning, for 8 minutes or until nicely browned. Remove from pan.

4 Add asparagus and sauté for 2 minutes or until softened. Add sugar snaps, garlic and thyme and sauté 1 minute longer or until vegetables are tender-crisp. Return potatoes to pan along with duck meat and stir to rewarm and combine. Add 1 tbsp (15 mL) parsley and season with salt.

5 While hash is warming, heat a large nonstick frying pan on medium-low heat. Add butter, and as soon as it has melted crack eggs into 4 separate corners, cover pan with a lid and cook for 3 minutes or until white is set but yolk is still runny. Season with salt and pepper and serve on top of hash and chopped crisp skin. Sprinkle with remaining 1 tbsp (15 mL) parsley.
SHARE