Duck Club Sandwich
Hiver 2016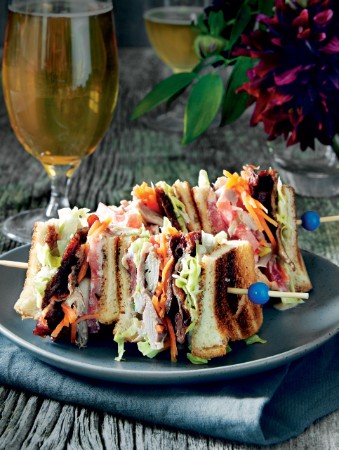 Duck Club Sandwich
Hiver 2016
BY: Amy Rosen
There's no sandwich more satisfying than a club. The go-to for in-room dining or post-hockey refuelling—how surprising would it be to serve one to your guests? It's a classic setup for the most part, save for the Hoisin mayo, the quick pickled carrots and subbing some crisped duck skin for the bacon. Wait: whaat? Yes. Duck skin bacon. We went there.
QUICK PICKLED CARROTS
1 cup (250 mL) water
1 cup (250 mL) white vinegar
1 tsp (5 mL) kosher salt
½ cup (125 mL) sugar
2 carrots, peeled and julienned

HOISIN-GREEN ONION MAYONNAISE
½ cup (125 mL) mayonnaise
2 tbsp (30 mL) hoisin sauce
2 green onions, minced

½ a Chinese roast duck, meat taken off of bones, totaling about 1¼ cups (310 mL) meat, skin reserved (if you want to go heavier on the duck, order a whole duck)

12 slices white bread, toasted
2 medium tomatoes, sliced
½ head iceberg lettuce, shredded
Sandwich picks (to hold it all together)
1 To make pickled carrots, combine water, vinegar, salt and sugar in a medium saucepan. Bring to a boil and stir until salt and sugar dissolve. Pour into a non-reactive bowl, add prepared carrots and let sit at room temperature for half an hour, then chill in the refrigerator until cold. Drain and pat carrots dry before using. (Extra pickled carrots will last a week in the refrigerator.)

2 For hoisin-green onion mayonnaise, simply combine the 3 ingredients in a small bowl.

3 Shred meat into bite-sized pieces, then crisp some of the skin. To do this, in a medium nonstick skillet over medium heat, place pieces of skin, with most of fat removed, fat-side down. Cook for 2 to 3 minutes, or until skin gets crispy. You'll need to do this in 2 to 3 batches, depending on how generous you are with skin. Drain on paper towel.

4 Now it's time to build the sandwiches. For each of 4 sandwiches, start with a piece of toasted bread, smear with hoisin-mayo, top with a few slices of tomato, some shredded lettuce and a handful of duck meat. Next comes the second slice of bread; smear it with more mayo, top with pickled carrots, more shredded lettuce and a few pieces of duck skin. Finally, smear the third and final piece with mayo, and top that sandwich (mayo side down). Strategically place 4 sandwich picks in sandwich so that you can cut it into 4 triangles, and then lay out on a plate, cut-sides up. Side with chips.
SHARE