Duck Breast with Plums
Spring 2005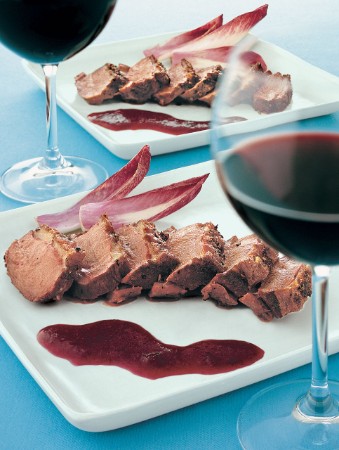 Duck Breast with Plums
Spring 2005
BY: Lucy Waverman
This dish uses plums to make an exotic sauce. Using traditional sauce ingredients and cooking them along with the plums gives sweetness to the savoury duck meat.
3 duck breasts, about 12 oz (375 g) each
1 tbsp (15 mL) chopped ginger
1 tbsp (15 mL) cracked peppercorns
1 tbsp (15 mL) cracked coriander seeds
Salt

Sauce
2 tbsp (25 mL) balsamic vinegar
1 tbsp (15 mL) granulated sugar
¼ cup (50 mL) red wine
2 cups (500 mL) chicken stock
1 cup (250 mL) chopped plums
2 tbsp (25 mL) unsalted butter
1. Preheat oven to 450ºF (230ºC).

2. Score duck skin in 1-inch (2.5-cm) intervals. Combine ginger, peppercorns and coriander seeds. Rub into duck breasts. Season with salt to taste.

3. Place breasts skin-side down in a cold skillet. Turn heat to medium and cook for 2 minutes. Reduce heat to low and cook for about 15 minutes or until fat is rendered. Drain fat as it accumulates in skillet.

4. Transfer breasts to a rack over a baking pan and bake for 7 to 10 minutes or until slightly pink.

5. Discard remaining fat from skillet while breasts are baking. Add vinegar and sugar to skillet and turn heat to high. Cook mixture until sticky, add wine and reduce to a glaze. Add stock and plums and boil for 5 minutes until plums are soft and sauce is thickened and reduced. Strain sauce, pushing through any solids. Return sauce to heat and bring to boil.

6. Remove sauce from heat and swirl in butter. Slice breasts and place on plate. Glaze with sauce.
SHARE