Double-Smoked Bacon with Maple Glaze
Holiday 2013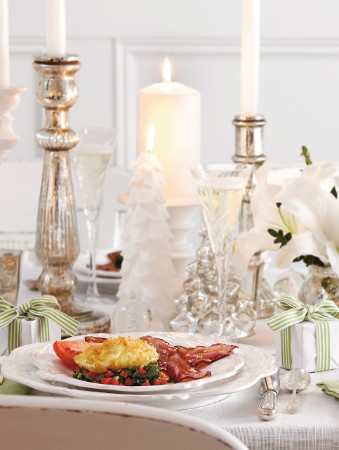 Double-Smoked Bacon with Maple Glaze
Holiday 2013
BY: Marilyn Bentz-Crowley
One of the messiest kitchen chores is frying or broiling bacon strips. So switch to this much tidier method, instead—baking the slices to a golden crisp. Do buy dry-cured bacon, especially the kind that's smoked by a butcher, as it has far less moisture and far more taste! A pound of bacon serves six, but often bacon lovers want to indulge in more at a festive brunch so be prepared to put another tray into the oven.
1 to 2 lbs (500 g to 1 kg) double-smoked or smoked bacon
2 to 3 tbsp (30 to 45 mL) pure maple syrup
1 Place oven rack just above and at centre of oven. Preheat oven to 375°F (190°C).

2 Use baking sheets with sides, and bake bacon in batches as needed. A jelly-roll pan about 15 x 10-inch (37 x 25-cm) can accommodate ½ lb (250 g) of bacon. Line pans with foil for easy cleanup.

3 Place bacon slices snugly against each other but not overlapping by much. Bake 10 to 12 minutes. If browning unevenly, rearrange strips as needed and switch pan positions. (If making ahead, drain bacon on paper towels at this point; place in a plastic bag and refrigerateor freeze until needed.)

4 Bake for another 5 minutes (or more) until lightly golden. (Bacon differs widely on baking time due to slice thickness and moisture content.)

5 Remove from oven; lightly brush strips with maple syrup. Return to oven for 3 to 5 more minutes or until golden and crisp to your liking.

6 Drain on paper towels before serving.
SHARE