Dilled Skillet Rösti
Temps des Fêtes 2018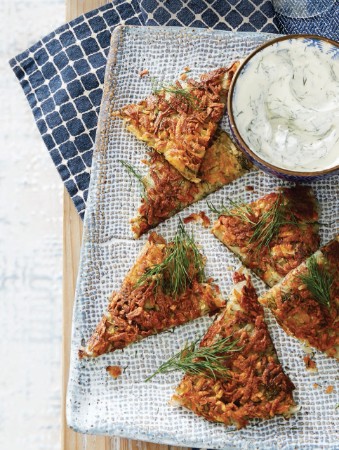 Dilled Skillet Rösti
Temps des Fêtes 2018
BY: Amy Rosen
What's better than frying up dozens of crispy little latkes—potato pancakes— symbolically eaten during Hanukkah to celebrate the miracle of light? Making one giant one, a.k.a. a rösti. This one's full of dill and perfectly complements our tart and sweet pomegranate chicken.
½ cup (125 mL) melted unsalted butter, divided
1 tbsp (15 mL) vegetable oil
3 russet potatoes, peeled, grated and squeezed dry in clean tea towel
2 tbsp (30 mL) flour
1 tsp (5 mL) kosher salt
½ tsp (2 mL) black pepper
1 cup (250 mL) chopped dill, divided
½ cup (125 mL) sour cream
1. Add 1 tbsp (15 mL) melted butter and vegetable oil to 8-inch (20-cm) skillet and heat over medium.

2. Add grated potatoes to a large bowl and toss with remaining melted butter, plus the flour, salt and pepper. Toss until well combined. Stir in ¾ cup (175 mL) of dill.

3. Tip mixture into hot pan and press down firmly with hand or spatula to help it form a solid cake. Cook over medium heat for 6 to 8 minutes or until it is golden brown underneath (you can check the colour by gently lifting up the edge of the rösti with a spatula, but don't do this too early or the rösti may come apart). When nicely browned on the bottom, loosen rösti from the pan with spatula and slide it onto a plate (remember, the skillet handle will be hot). Place another plate on top and holding both plates together, flip them over. Carefully slide browned-side-up rösti back into the skillet and continue cooking for 10 to 12 minutes more, or until golden brown on bottom and cooked through. Remove from heat and slide rösti onto a serving plate.

4. Stir remaining dill into sour cream.

5. Slice rösti into wedges and garnish with dill, if desired. Serve with dill sour cream.
SHARE