Dill and Feta Polpettes
Holiday 2006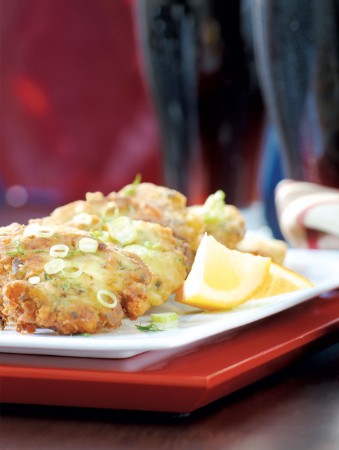 Dill and Feta Polpettes
Holiday 2006
BY: Sasha Chapman
These are inspired by one of the world's experts on potato cookery, Alex Barker. She included a similar recipe in her latest book, Potato.
3 large russet potatoes
Salt
1 cup (250 mL) feta
4 spring onions, chopped, plus more for garnish
2 tbsp (25 mL) dill, chopped, plus more for garnish
1 egg
1 tbsp (15 mL) lemon juice
2 tsp (10 mL) all-purpose flour, plus more for dredging
Pepper
Olive oil
Lemon wedges
1. Boil potatoes in their skins in lightly salted water until tender. Drain and peel.

2. In a bowl, mash the potatoes and crumble in feta. Add onion, dill, egg and lemon juice. Stir in 2 tsp (10 mL) flour and season with salt and pepper.

3. Cover and refrigerate 30 minutes or until firm. Roll into walnut-sized balls, and flatten. Dredge in flour.

4. Heat 1/2 -inch (1.25 cm) of oil in frying pan over medium heat. Fry in batches, turning once, until golden brown, about 4 minutes. Drain and serve hot, garnished with dill, spring onion and lemon wedges.
SHARE