Dill Pickle Potato Soup
Holiday 2018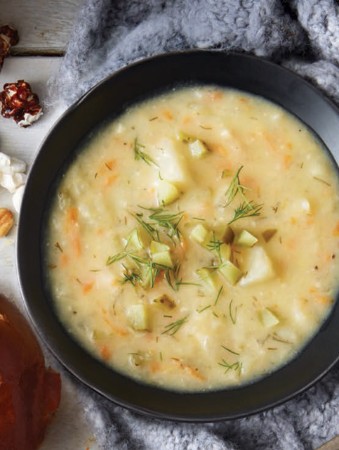 Dill Pickle Potato Soup
Holiday 2018
BY: Jennifer MacKenzie
Inspired by a traditional Polish recipe, this soup, thick with potatoes and tangy with dill pickles, is sure to thaw you after a chilly day out in the wintry weather. The warm Pastrami on a Pretzel Bun sandwiches (recipe follow) are a perfect hearty pairing. You can make the soup through Step 3 a day or two ahead, refrigerate it, then bring it back to a boil before adding the sour cream. Simmer it up, curl up and warm up.
2 tbsp (30 mL) butter
1 onion, chopped
1 large carrot, shredded
3 cups (750 mL) chopped peeled russet potatoes, about 2
2 cloves garlic, minced
Salt and freshly ground pepper
4 cups (1 L) unsalted chicken or vegetable broth
½ cup (125 mL) dill pickle liquid
½ cup (125 mL) sour cream, at room temperature
2 tbsp (30 mL) all-purpose flour
½ cup (125 mL) shredded dill pickles
1 tbsp (15 mL) chopped fresh dill, divided
¼ cup (60 mL) finely diced dill pickle
1. Melt butter in a large pot over medium heat. Sauté onion and carrots for about 5 minutes or until softened. Add potatoes, garlic and ½ tsp (2 mL) each salt and pepper. Cook, stirring, for 2 minutes or until garlic is fragrant.

2. Stir in broth and dill pickle liquid. Cover and bring to a boil. Reduce heat to medium-low and boil gently, covered, for about 30 minutes or until potatoes are very soft.

3. Use an immersion blender in the pot to purée about half the soup, leaving some chunks (or transfer about half the soup in batches to a blender and purée until smooth, then return to pot). Return to medium heat.

4. In a small bowl, whisk sour cream with flour. Gradually dollop into soup, whisking each addition until blended. Stir in the shredded pickles. Cook over medium heat, stirring often, for 5 to 10 minutes or until bubbling and until slightly thickened. Stir in half of the dill and season to taste with salt and pepper.

5. Ladle soup into warmed bowls and sprinkle with diced pickles and remaining fresh dill.
PASTRAMI ON A PRETZEL BUN

Hot pastrami on a chewy pretzel bun, a slather of mustard and melted Swiss cheese makes a very fine sandwich indeed. You may like the addition of sauerkraut for some extra punch, or leave it off for a milder sandwich. If the buns are small, you may want to make extras and serve one-and-a-half or two per person. Check a local bakery for pretzel buns, or get adventurous and make some yourself. A dense multigrain bun makes for a good alternative.

12 oz (340 g) sliced pastrami
4 pretzel buns, cut in half
Yellow mustard
¾ cup (175 mL) drained sauerkraut (optional).
Freshly ground pepper
4 slices Swiss cheese
1. Preheat oven to 400°F (200°C).

2. Divide pastrami into 4 equal portions. Place each portion in a separate pile approximately the same diameter as the buns on a large piece of foil. Wrap with foil and seal edges. Place on a baking sheet and heat in oven for 5 minutes or until sizzling. Place buns directly on oven rack and heat alongside pastrami.

3. Spread cut sides of buns with mustard, to taste. Using tongs, lift pastrami from foil, draining off liquid, and arrange on bun bottoms, top with sauerkraut (if using) and sprinkle with pepper. Top each with a slice of cheese. Leave sandwiches open and place on baking sheet.

4. Bake in oven for about 5 minutes or until cheese is melted. Place bun lids on sandwiches and serve hot.
SHARE