Diced Chicken with Sweet and Spicy Eggplant
Autumn 2013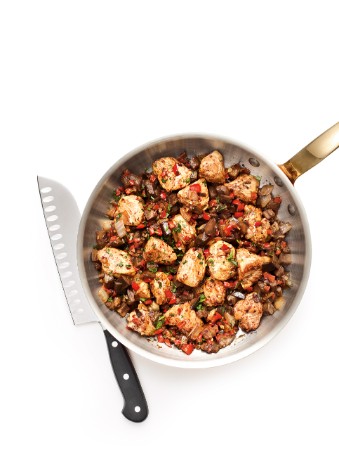 Diced Chicken with Sweet and Spicy Eggplant
Autumn 2013
BY: Lucy Waverman
The only way to cut both the chicken and eggplant is with a knife. Use your chef's knife for this extraordinary dish. Serve with rice and sautéed bok choy.
1 eggplant, about 1 lb (500 g)
12 oz (375 g) boneless, skinless chicken breasts
Salt and freshly ground pepper
¼ tsp (1 mL) cayenne
¼ cup (60 mL) olive oil
1 tbsp (15 mL) minced garlic
2 tsp (10 mL) minced ginger
1 red pepper, seeded and finely diced
1 cup (250 mL) chopped onion
1 tbsp (15 mL) granulated sugar
1 tsp (5 mL) red pepper chili flakes
1 tsp (5 mL) cinnamon
½ tsp (2 mL) cocoa powder
Pinch cayenne
3 tbsp (45 mL) balsamic vinegar
2 tsp (10 mL) capers
¼ cup (60 mL) water

GARNISH
Chopped Italian parsley
1 Trim the ends off the eggplant and using a vegetable peeler, create stripes by removing strips of skin, 1 inch (2.5 cm) apart. Chop into ½-inch (1-cm) cubes.

2 Dice chicken into 1-inch (2.5-cm) pieces and season with salt, pepper and cayenne. Heat 3 tbsp (45 mL) oil in a large skillet over medium heat. Add chicken, garlic and ginger to pan and sauté until just turning colour, about 3 minutes. Remove chicken and reserve.

3 Add remaining oil, eggplant, red pepper, onion, sugar, chili flakes, cinnamon, cocoa powder and cayenne to skillet. Season with salt and pepper. Cook for 5 to 6 minutes or until onions start to brown. Stir continuously to prevent spices from burning.

4 Stir in vinegar and capers. Sauté for 4 to 6 minutes or until vegetables are very tender. Return chicken and any juices to skillet. Add water and bring to a boil, stirring. Cover and reduce heat to low. Simmer for 5 to 10 minutes, or until the chicken is cooked and the mixture is thick, dark and glossy. The flavours should melt into each other. Taste for seasoning, adding salt, pepper and more balsamic vinegar if desired. Sprinkle with Italian parsley.
SHARE