Designer Fries with Red Miso Aioli
Spring 2004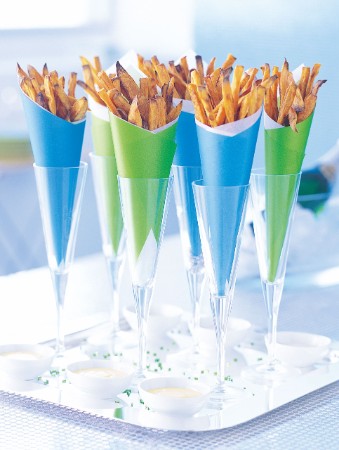 Designer Fries with Red Miso Aioli
Spring 2004
BY: Dana Speers
Red miso paste is available at Asian grocery stores and upscale food markets. Its unique salty flavour complements the sweetness of the potatoes.
4 large sweet potatoes, peeled and cut into 4-inch-(10-cm) long, 1/2-inch (1-cm) wide batons
1 clove garlic, minced
Salt and freshly ground pepper
1/2 cup (125 mL) olive oil

Red Miso Aioli
1 tbsp (15 mL) red miso paste
2 tbsp (25 mL) orange juice
1/2 clove garlic, minced
1 cup (250 mL) mayonnaise
1/4 tsp (1 mL) toasted sesame oil
1. Preheat oven to 425ºF (220ºC) and put two racks in the oven.
2. In a large bowl, toss the sweet potatoes, garlic, salt, pepper and olive oil. Divide the sweet potatoes among two parchment-lined baking trays and spread out evenly. Bake the sweet potatoes, shifting the pans halfway through cooking time, until crispy and cooked through, about 1 hour.
3. Whisk the red miso paste and orange juice in a medium bowl. Add the remaining ingredients and stir to combine.
4. Serve the sweet potato fries with the aïoli on the side.
SHARE