Deep-In-The-Heart-Of-Texas Chili
Winter 2009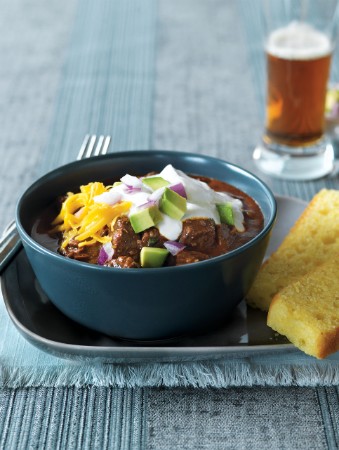 Deep-In-The-Heart-Of-Texas Chili
Winter 2009
BY: Julia Aitken
Unlike other versions of this family favourite, real Texan chili doesn't contain beans or tomatoes. Instead, the beef is cooked slowly in a chili-spiked broth which is made even richer here with the addition of cocoa powder. It's worth looking for canned chipotle chilies (most larger supermarkets carry them) as they add another layer of flavour and a touch of heat. Serve the chili in bowls and top each portion with diced avocado and onion, shredded cheddar cheese and a dollop of sour cream. Cornbread is great on the side.
3 lb (1.5 kg) stew beef, trimmed of excess fat and cut into ½ inch (1 cm) pieces
Salt and freshly ground black pepper
3 tbsp (45 mL) vegetable oil
2 medium onions, finely chopped
¼ cup (50 mL) chili powder
2 tbsp (25 mL) unsweetened cocoa powder
6 cloves garlic, minced
1 tbsp (15 mL) ground cumin
1 tsp (5 mL) dried oregano
2 cups (500 mL) low-sodium beef broth
1 to 2 tbsp (15 to 25 mL) minced canned chipotle chilies in adobo sauce
1 tbsp (15 mL) packed brown sugar
1 tbsp (15 mL) yellow cornmeal
⅓ cup (75 mL) chopped fresh coriander
1. Pat beef dry on paper towels; sprinkle with salt and pepper. In a large flameproof casserole or Dutch oven, heat 1 tbsp (15 mL) oil over medium-high heat. Brown beef in batches for 4 to 6 minutes, turning often, removing to a large plate as each batch browns, and adding more oil to pot as necessary.

2. Pour off all but 1 tbsp (15 mL) fat remaining in pot; reduce heat to medium. Add onions; cook, stirring, for 5 to 7 minutes until onions are softened but not browned. Add chili powder, cocoa powder, garlic, cumin and oregano; cook, stirring, for 1 minute.

3. Add broth to pot; bring to a boil over high heat, stirring to scrape up any browned bits from bottom of pot. Return beef to pot, along with any juices that have accumulated on plate. Stir in chipotles and sugar. Reduce heat to medium-low; simmer, covered, for about 1½ hours, stirring occasionally, until beef is very tender.

4. Sprinkle cornmeal over surface of chili; stir until well combined. Bring to a boil over medium-high heat, stirring constantly, until thickened slightly. Remove pot from the heat; stir in coriander. Season with salt and pepper to taste.
SHARE