Deep-Fried Pickles with Chipotle Pimento Cheese
Summer 2015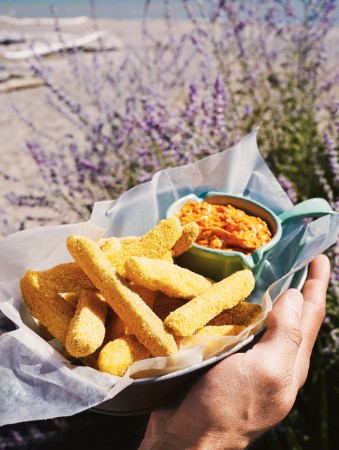 Deep-Fried Pickles with Chipotle Pimento Cheese
Summer 2015
BY: Christopher St. Onge
Deep-frying is one of the simplest and quickest ways to cook. The only real bother is dealing with the oil after it's been used, so it only makes sense to make good use of it for these pickles once it's fired up. These warm deep-fried pickles and dip are a roadhouse-style guilty pleasure.
CHIPOTLE PIMENTO CHEESE
3 cups (750 mL) coarsely grated old cheddar
½ cup (125 mL) mayonnaise
½ cup (125 mL) chopped roasted red pepper
3 tbsp (45 mL) finely chopped chipotle in adobo
Salt and freshly ground black pepper to taste

DEEP-FRIED PICKLES
1 egg
¼ cup (60 mL) beer or milk
½ cup (125 mL) flour
1 cup (250 mL) fine cornmeal
1 tsp (5 mL) salt
½ tsp (2 mL) cayenne
10 dill pickles, each about 4 inches (10 cm) long, quartered lengthwise
Vegetable oil for deep-frying
1 For the chipotle pimento cheese, combine the cheddar, mayonnaise, red pepper and chipotle in a food processor; pulse until somewhat smooth with some texture remaining. Taste and season with salt and pepper, cover and refrigerate until ready to serve (dip maybe made and refrigerated up to 3 days in advance).

2 In a medium bowl, whisk together egg and beer. Place flour in a separate bowl. Combine cornmeal, salt and cayenne in a third bowl. Pat pickles dry using paper towels. Coat pickles first in egg, then flour; dip once again in egg being sure to fully coat, and then into cornmeal mixture.

3 Heat a 3-inch (8-cm) depth of vegetable oil in a large deep saucepan (or deep-fryer) and bring to 375°F (190°C). Fry pickles in batches for 4 to 5 minutes or until golden. Remove with a slotted spoon to a paper-towel-lined baking sheet. Transfer to a serving platter while still hot and serve with chipotle pimento cheese.
SHARE