Deep Fried Sticky Wings with Korean Barbecue Sauce
Début de l'été 2014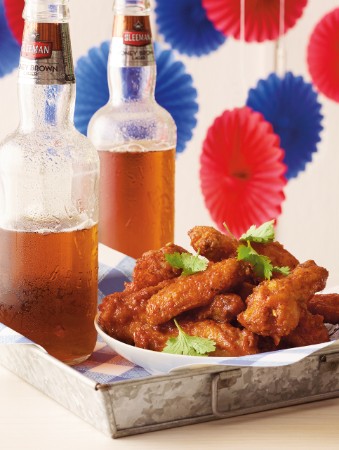 Deep Fried Sticky Wings with Korean Barbecue Sauce
Début de l'été 2014
BY: Lucy Waverman
Although these wonderful wings are deep-fried, you could bake them (see recipe forBaked Spicy Buffalo Wings, also Summer 2014 issue, for instructions). They will not be as crisp but the taste will still come through.
SAUCE
¼ cup (60 mL) gochujang (Korean chili paste)
1 tbsp (15 mL) chopped garlic
2 tbsp (30 mL) peeled and minced ginger
1 green onion, thinly sliced
3 tbsp (45 mL) low-sodium soy sauce
2 tbsp (30 mL) rice vinegar
3 tbsp (45 mL) light brown sugar
¼ cup (60 mL) water
1 tbsp (15 mL) honey
2 tsp (10 mL) sesame oil

WINGS
2 lbs (1 kg) chicken wings, wing tip discarded, cut in half
1 cup (250 mL) rice flour
Salt and freshly ground pepper
¼ tsp (1 mL) Korean hot pepper powder(if available), or pinch cayenne
Vegetable oil for frying
Coriander sprigs
1 Combine Korean chili paste, garlic, ginger, green onion, soy, vinegar, sugar, water, honey and sesame oil in a medium pot over high heat.Bring to boil, remove from heat immediately and let cool.

2 Take ¼ cup (60 mL) of mixture and toss with wings. Reserve remaining sauce. Marinate for2 hours. Remove wings from marinade. Discard marinade.

3 Season rice flour with salt and pepper andKorean hot pepper powder. Toss wings with flour mixture.

4 Heat 2 inches (5 cm) oil in high-sided skillet or wok to high, about 350°F (180°C) or until a cube of bread turns brown in 15 seconds.

5 Add wings in batches, making sure not to crowd the skillet, and fry for 5 to 7 minutes, or until golden and cooked through. Place on rack and hold in a 200°F (100°C) oven. Continue frying the remainder.

6 Bring remaining sauce back to a boil, and then remove from heat. Toss wings with warm sauce and garnish with coriander.

TIP
Buy meaty chicken wings if possible. Cut them in half and remove the wing tip. The tips can be used to make stock if desired.
SHARE