Date and Orange Salad
Winter 2006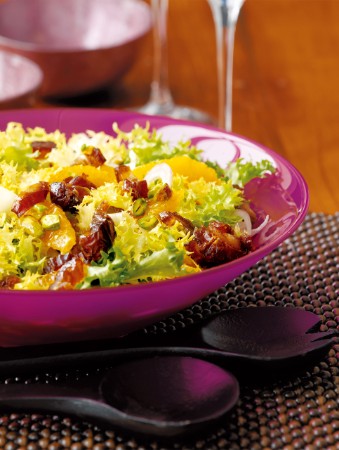 Date and Orange Salad
Winter 2006
BY: Jennifer McLagan
The sweetness of the fresh dates is balanced by the bitterness of the escarole. This is a good salad to brighten a winter meal.
4 cups (1 L) escarole leaves
2 oranges
4 medjool dates
1 small shallot, thinly sliced
2 tbsp (25 mL) freshly squeezed lemon juice
Salt and freshly ground pepper
6 tbsp (90 mL) olive oil
2 tbsp (25 mL) toasted, chopped salted pistachios
1. Rinse and dry the escarole leaves. Zest 1 orange; set the zest aside. Peel both oranges removing all the pith, then cut them between the membranes into segments. Do this over a bowl so you can catch the juice.

2. Remove and discard the seeds from the dates. Cut the dates into thin slices, place them in another bowl and add sliced shallot and drained orange segments. Keep the juice.

3. Take 1 tbsp (15 mL) orange juice and mix it with lemon juice and orange zest. Season it with salt and pepper, then whisk in olive oil.

4. Place escarole leaves in a bowl; add mixed orange segments, shallot and dates. Toss with the dressing and sprinkle with pistachios.
SHARE