Dark Rum and Crab Dip
Holiday 2007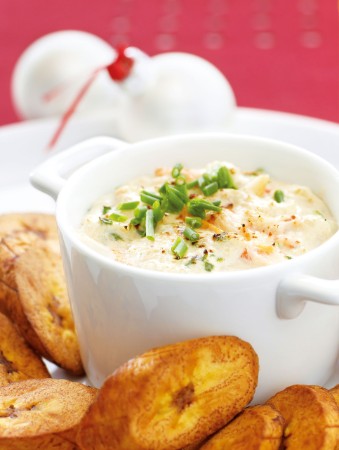 Dark Rum and Crab Dip
Holiday 2007
BY: Tonia Wilson-Vuksanovic
This dip can be made the day before. Just before serving, place in oven to warm through.
1 tbsp (15 mL) butter
½ cup (125 mL) white onion, finely chopped
2 cloves garlic, finely chopped
¼ cup (50 mL) dark rum
Grated rind of 1 lime
Juice of 1 lime
¼ tsp (1 mL) Tabasco sauce
8 oz (250 g) cream cheese, softened
⅓ cup (75 mL) mayonnaise
4 oz (125 g) crab meat, canned or fresh, drained
Salt to taste
2 tbsp (25 mL) fresh chives, finely chopped
1. Preheat oven to 350°F (180°C).

2. In a medium saucepan, melt butter over medium heat. Add onion and garlic and cook for 10 minutes until softened, do not brown.

3. Add rum and cook 3 minutes longer.

4. With a rubber spatula blend warm onion mixture with rind, juice, Tabasco sauce, cream cheese, mayonnaise and crab meat until well combined. Add salt to taste.

5. Place in an ovenproof crock or ramekin and warm for 20 minutes.

6. Sprinkle with chives and serve with Plantain Chips (recipe follows).

Plantain Chips

An addictively crunchy accompaniment to our Dark Rum and Crab Dip.

4 green plantains, unripened
4 cups (1 L) vegetable oil
Salt to taste
1 lime, quartered
1.    Peel plantains and slice diagonally into ¼-inch (½ -m) slices.

2.    In a large pot heat oil to 350°F (180ºC) or until a cube of bread fries in 15 seconds.

3.    Working in batches add plantain to oil, fry on each side for 1 minute, 2 minutes total frying time.

4.    Strain on paper towel, sprinkle with salt and serve spritzed with lime juice.
SHARE