Danish Potatoes
Autumn 2016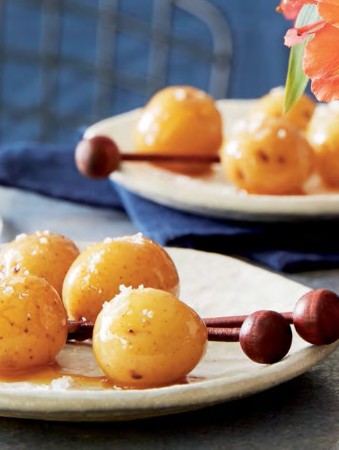 Danish Potatoes
Autumn 2016
BY: Marilyn Bentz-Crowley
Use little potatoes that are now in profusion, often labeled "creamers" for their delicious soft interiors. Despite being caramelized, the potato coating is not very sweet but is very flavourful. Skewer one or two potatoes, sprinkle a few grains of coarse salt and offer them as a unique hot nibble with drinks. These are traditionally served at Christmas dinner.
1½ lbs (750 g) very small thin-skinned potatoes, often labeled "creamers"
3 tbsp (45 mL) granulated sugar
2 tbsp (30 mL) unsalted butter
2 tbsp (30 mL) water
Coarse salt, such as fleur de sel
1 Boil potatoes in water to cover for 8 to 10 minutes until they are not quite cooked and offer some resistance when poked with a skewer. Drain, rinse under cold running water, and cool. (If making ahead, just leave potatoes at room temperature for up to several hours.)

2 Add sugar to a sauté pan large enough to later hold potatoes easily in almost a single layer. Cook sugar over high heat until just melting. Reduce heat to medium-high, add butter and stir for a minute to incorporate. Slowly add water while stirring constantly.

3 Add potatoes; turn to coat with sugar mixture. Continue cooking for 8 to 10 minutes, stirring and lifting potatoes constantly, until a rich deeply coloured caramel glaze forms on each potato. Turn into a warmed dish; lightly sprinkle with pinches of salt. Serve right away with chicken, lamb or pork.
SHARE