Daikon Radish Stir-Fry With Shiitakes, Carrot & Slivered Pork
Automne 2014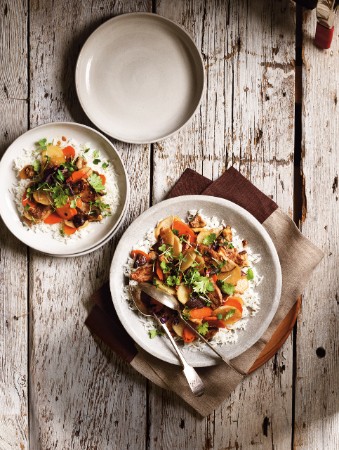 Daikon Radish Stir-Fry With Shiitakes, Carrot & Slivered Pork
Automne 2014
BY: Lucy Waverman
Daikon radish is available at most supermarketstoday. It comes in varying sizes and isinexpensive. When cooked it has a sweetnessand tastes a bit like broccoli stems. Mixedwith carrots and shiitake mushrooms, this is aperfect stir-fry to serve with either rice or ricenoodles. Substitute chicken, meat or shrimpfor the pork or omit altogether.
8 oz (250 g) pork tenderloin

MARINADE
2 tbsp (30 mL) soy sauce
½ tsp (2 mL) minced ginger
½ tsp (2 mL) sugar
1 lb (500 g) daikon radish, peeled
2 medium carrots, peeled
10 shiitake mushrooms, stemmed,
about 4 oz (125 g)
2 tbsp (30 mL) vegetable oil

FINISHING SAUCE
1 tsp (5 mL) chopped ginger
1 tsp (5 mL) chopped garlic
2 tbsp (30 mL) chopped shallots
1 tbsp (15 mL) soy sauce
¼ tsp (1 mL) sugar

GARNISH
2 tbsp (30 mL) cilantro leaves
½ cup (125 mL) spicy microgreens
1 Cut tenderloin in half lengthwise and then slice into half moons.

2 For marinade, combine soy sauce, minced ginger and sugar in a bowl and add pork to marinate for 10 minutes. Drain pork and discard the remaining marinade.

3 Slice daikon in thin diagonal ⅛-inch (3‑mm) slices. Cut daikon in half first if large. Slice carrots the same way. Tear shiitakes into quarters.

4 Heat a wok or skillet over high heat until pan is very hot then add oil. Once oil is heated, add pork and cook until pink, 1 to 2 minutes. Remove with a slotted spoon and set aside. Add daikon and carrots. Stir-fry until softened, 1 to2 minutes. Add shiitakes and cook 1 minute longer or until the vegetables take on a little colour.

5 For finishing sauce, combine ginger, garlic, shallots, soy sauce and sugar in a small bowl. Add to vegetables and bring to boil.

6 Add pork back into the vegetable mixture to combine and reheat another minute. Remove from heat and garnish with cilantro and strew with spicy microgreens. Serve immediately.
SHARE