Curry-and-Caramel Roasted Pumpkin Seeds
Automne 2015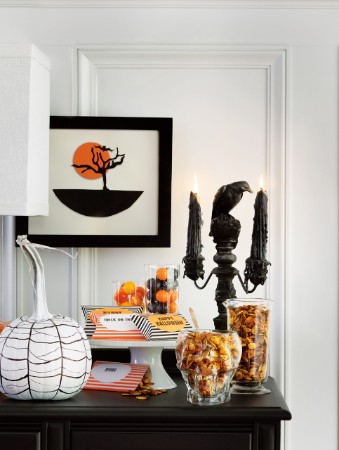 Curry-and-Caramel Roasted Pumpkin Seeds
Automne 2015
BY: Eshun Mott
If you are going to carve pumpkins then you might as well have these tasty roasted seeds to snack on as a reward. One medium pumpkin should yield about 2 cups (500 mL) of seeds.
4 cups (1 L) pumpkin seeds
3 tbsp (45 mL) olive oil
2 tbsp (30 mL) Madras or medium curry paste
2 tbsp (30 mL) packed brown sugar
1½ tsp (7 mL) salt
1 Preheat oven to 400°F (200°C).

2 Bring a large pot of salted water to a boil. Add pumpkin seeds and boil for 10 minutes. Drain and discard any bits of pumpkin flesh sticking to seeds. Pat pumpkin seeds dry with paper towels.

3 Combine olive oil, curry paste, brown sugar and salt in a medium bowl. Add pumpkin seeds and toss to coat.

4 Spread seeds out on a baking sheet and bake for 20 to 24 minutes, stirring occasionally, until seeds are golden brown. Let cool and transfer to an airtight container.
SHARE