Curry-Roasted Cauliflower, Kale & Bulgur Salad
Printemps 2015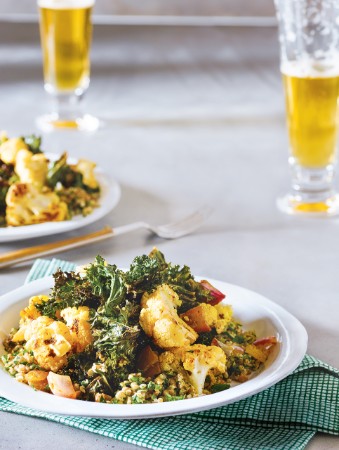 Curry-Roasted Cauliflower, Kale & Bulgur Salad
Printemps 2015
BY: Jennifer MacKenzie
Roasted cauliflower seems like a completely new vegetable compared to its boiled or steamed counterpart. Adding sweet red onion and kale and perfuming with curry and lime really makes it shine. Marinating the kale in oil and lime juice helps to tenderize it, leaving a short roasting time as all that's needed for it to become tender and flavourful. Serving the warm vegetables on chilled herbed bulgur makes this salad a little like tabbouleh but with some tasty and textural twists. It's a fine addition to a simple meal of grilled fish or poultry.
1½ cups (375 mL) water
Salt and freshly ground pepper
¾ cup (175 mL) coarse red wheat bulgur
¼ cup (60 mL) olive oil
¼ cup (60 mL) approx. fresh lime or lemon juice
½ cup (125 mL) finely chopped fresh parsley
1 tbsp (15 mL) finely chopped fresh mint
4 cups (1 L) packed coarsely torn kale leaves (stalks discarded)
1 tbsp (15 mL) curry paste
1 small head cauliflower, cut into small florets
½ red onion, chopped
1 Bring water and a pinch each of salt and pepper to a boil in a saucepan with a tight-fitting lid over high heat. Gradually pour in bulgur in a thin stream, stirring constantly. Reduce heat to low, cover and simmer for 15 minutes or until bulgur is tender and liquid is absorbed. Transfer to a bowl and let cool.

2 Combine 2 tbsp (30 mL) of the oil and 2 tbsp (30 mL) of the lime juice. Add to cooled bulgur with parsley and mint and toss to combine. Cover and refrigerate until chilled, at least 1 hour or for up to 8 hours.

3 About 1 hour before serving, preheat oven to 425°F (220°C). Line a large, rimmed baking sheet with foil.

4 Combine kale, 1 tbsp (15 mL) of the oil, the remaining 2 tbsp (30 mL) lime juice and ¼ tsp (1 mL) each of salt and pepper in a large bowl. Toss to evenly coat. Let stand at room temperature for 20 to 30 minutes.

5 Combine remaining 1 tbsp (15 mL) oil and curry paste in a small bowl. Place cauliflower and onion on foil-lined baking sheet. Drizzle curry mixture overtop and toss to coat. Spread out into a single layer and roast for 20 minutes, stirring once, until cauliflower is almost tender and starting to brown.

6 Add kale and dressing to cauliflower mixture. Stir to combine and spread out on baking sheet. Roast for 5 to 10 minutes or until cauliflower is tender and kale is starting to brown. Let cool for 5 to 10 minutes.

7 Season bulgur mixture to taste with salt and pepper and more lime juice if desired. Spread on a serving platter or individual salad plates and top with warm vegetables.
SHARE