Curried Squash and Apple Soup
Temps des Fêtes 2000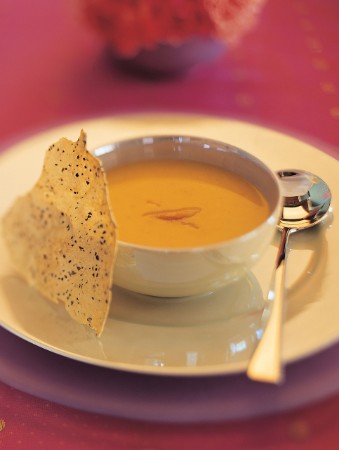 Curried Squash and Apple Soup
Temps des Fêtes 2000
BY: Lucy Waverman
A luxurious soup with a background of spice that balances the sweetness of the apples. The dried apple garnish adds extra flavour.
2 tbsp (25 mL) vegetable oil
1 cup (250 mL) chopped onions
1 tbsp (15 mL) grated ginger
2 tbsp (25 mL) curry paste
4 cups (1 L) peeled, diced butternut squash
2 cups (500 mL) peeled chopped green apples
6 cups (1.5 L) chicken or vegetable stock
1/2 cup (125 mL) coconut milk
3 tbsp (45 mL) chopped mint


Garnish
1/2 cup (125 mL) dried apple slices, slivered
1/4 cup (50 mL) water
1 tbsp (15 mL) butter
1/2 tsp (2 mL) granulated sugar
1. Heat oil in soup pot on medium heat. Add onions and sauté for 3 minutes or until softened. Stir in ginger and curry paste. Sauté for 1 minute, add squash and apples and sauté for 2 more minutes or until vegetables are coated with spices.

2. Pour in stock, bring to boil and reduce heat to medium-low. Simmer gently for 20 minutes or until vegetables are softened. Purée soup in batches in food processor or blender. Return to heat and add coconut milk. Bring to boil, then simmer for 5 minutes or until flavours are combined. Season well with salt and pepper. Stir in mint.

3. Place apple slices in skillet with water, bring to boil, simmer 2 minutes, add butter and sugar and simmer 2 more minutes or until golden. Place soup in bowls and top with dried apple slices.
SHARE