Curried Parsnip Soup
Temps des Fêtes 2010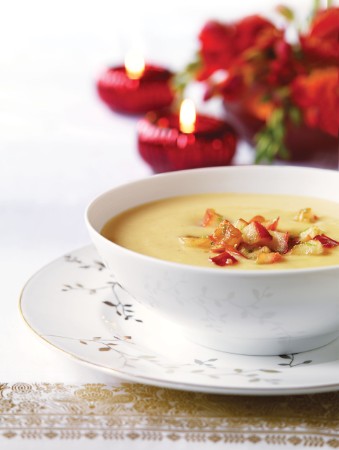 Curried Parsnip Soup
Temps des Fêtes 2010
BY: Lucy Waverman
This soup, using locally grown parsnips and apples, is a fine starter for any holiday entertaining dinner.
4 parsnips, peeled and cut into large dice,
to make 4 cups (1L)
1 tbsp (15 mL) vegetable oil
2 tbsp (25 mL) butter
1 cup (250 mL) chopped onion
1 tbsp (15 mL) chopped ginger
1 tbsp (15 mL) medium curry paste
1 apple such as an Empire, peeled and chopped,
to make 1 cup (250 mL)
5 cups (1.25 L) chicken stock
1/2 cup (125 mL) coconut milk
Salt to taste

APPLE COMPOTE
1 tbsp (15 mL) butter
1/2 tsp (2 mL) sugar
1/2 cup (125 mL) apples, diced in
1/4-inch (5-mm) pieces
1/2 tsp (2 mL) grated lime rind
1 Preheat oven to 450°F (230°C).

2 Toss parsnips with vegetable oil, place on a baking sheet and bake for 15 to 20 minutes, stirring several times so that they brown evenly or until parsnips are browned but not fully cooked. Set aside.

3 Heat butter in a soup pot over medium heat. Add onion and ginger and sauté for 2 minutes. Add curry paste and stir together. Add apples and parsnips and cook another 2 minutes or until flavours have combined.

4 Add chicken stock and bring to a boil. Cover, reduce heat to low and let simmer for 15 minutes or until vegetables are soft.

5 Purée soup, add coconut milk and simmer for 5 minutes, thinning with a little water if needed. Season with salt to taste. Keep warm.

6 To make compote, heat butter in a skillet over medium-high heat. Sprinkle in sugar and add apples. Cook until apples are slightly golden, about 4 minutes. Stir in grated lime rind. Garnish soup with apples.
SHARE