Curried Lamb and Potato Pot Pie
Holiday 2009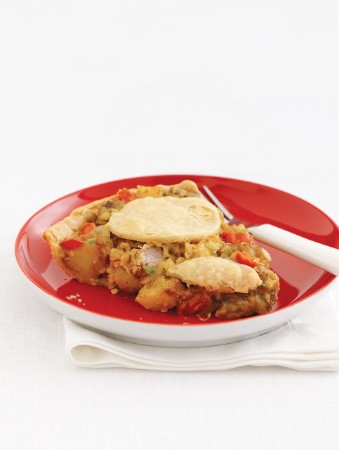 Curried Lamb and Potato Pot Pie
Holiday 2009
BY: Emily Richards
This recipe is perfect for an office pot luck or family get-together. It makes two pies so you can take one and leave one in the fridge for another day's dinner. You can substitute beef or pork for the lamb, if you prefer.
2 lbs (1 kg) boneless lamb shoulder
3 tbsp (45 mL) mild curry paste
2 tbsp (25 mL) vegetable oil
2 onions, thinly sliced
4 cloves garlic, minced
1 tbsp (15 mL) minced fresh ginger
3 cups (750 mL) beef stock
2 red peppers, chopped
1 jalapeño or other hot pepper, seeded and minced
1 lb (500 g) Yukon Gold potatoes, peeled and cubed (about 4)
⅔ cup (150 mL) all-purpose flour
2 boxes (350 g each) frozen deep dish pie shells, thawed
1. Trim visible fat from lamb and cut into1-inch (2.5-cm) cubes and place in large bowl. Add curry paste and stir well to coat lamb pieces. Cover and refrigerate for at least 1 hour or up to 24 hours.

2. Heat oil in large shallow saucepan over medium-high heat. Brown lamb in batches. Remove to plate. Add onions, garlic, ginger and ½ cup (125 mL) of the stock to saucepan and cook, stirring for about 5 minutes or until softened. Add red and hot peppers and cook for 2 minutes.

3. Return lamb to saucepan with remaining beef stock and potatoes. Bring to boil. Reduce heat; cover and simmer for about 30 minutes or until lamb and potatoes are tender.

4. Preheat oven to 375°F (190°C).

5. Whisk together flour and 1 cup (250 mL) water until smooth. Drizzle into lamb mixture and bring to a simmer and cook, stirring for about 5 minutes or until thickened. Let cool, stirring occasionally.

6. Place 2 of the thawed pie shells on baking sheet. Divide lamb and potato mixture among 2 of the pie shells.

7. Pull out remaining thawed pie shells and using a 3-inch (8-mL) round cookie cutter cut out 7 pieces of pastry. Place all over the lamb mixture and bake on bottom rack of oven for about 30 minutes or until pastry is golden brown.
SHARE