Curried Lamb Burger with Mango Chutney
Summer 2008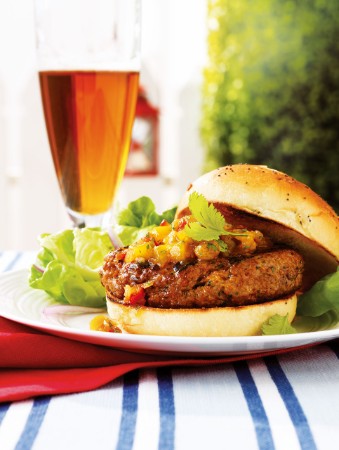 Curried Lamb Burger with Mango Chutney
Summer 2008
BY: Tonia Wilson-Vuksanovic
Cilantro makes a fresh alternative to lettuce as the garnish on this burger and is a great accompaniment to both the lamb and chutney. If possible, try to make patties 2 hours in advance so the flavours in the burgers have time to develop.
2 lb (1 kg) ground lamb
¼ cup (50 mL) fresh mint, finely chopped
2 tbsp (25 mL) curry powder
½ tsp (2 mL) ground cumin
½ tsp (2 mL) chili powder
1 tsp (5 mL) salt
6 onion buns, halved crosswise

Mango Chutney

2 tbsp (25 mL) vegetable oil
¾ cup (175 mL) onion, finely chopped
1 tbsp (15 mL) fresh ginger, peeled and finely chopped
2 cloves garlic, finely chopped
½ cup (125 mL) red pepper, finely diced
¼ tsp (1 mL) chili powder
½ tsp (2 mL) ground coriander
¼ cup (50 mL) cider vinegar
¾ cup (175 mL) brown sugar
2 large ripe mangos, peeled, pitted and finely chopped
¼ cup (50 mL) water
¼ tsp (1 mL) salt
¼ cup (50 mL) golden raisins
2 tbsp (25 mL) fresh cilantro, finely chopped

Garnish
½ cup (125 mL) fresh cilantro
1. In a large bowl mix lamb, mint, curry powder, cumin, chili powder and salt. Form the mixture into 6 equal-sized patties of 1-inch (2.5-cm) thickness. Make sure not to compress the patties too tightly as this allows them to remain tender.

2. In a small saucepan, heat oil over medium heat, add onions and ginger and cook for 5 minutes. Add garlic, red pepper, chili powder and dried coriander and cook for a minute longer.

3. Add cider vinegar, brown sugar, mangos, water and salt. Bring to the boil, then lower heat, cover and simmer for 40 minutes or until thickened and mangos are very soft. You may need to add more water if the mixture becomes too dry before mango is fully cooked, add 2 tbsp (25 mL) water at a time.

4. Remove from heat, stir in raisins and cool. Once cooled stir in fresh cilantro.

5. Heat the barbecue on high. Place patties on the grill and cook for 4 to 6 minutes on each side or until cooked to desired doneness. Do not overcook or they will be dry.

6. While burgers are finishing warm onion buns on cooler part of the grill.

7. Serve burgers on buns topped with fresh cilantro and Mango Chutney.
SHARE