Curried Coconut Tuile Cones with Chicken Salad
Summer 2018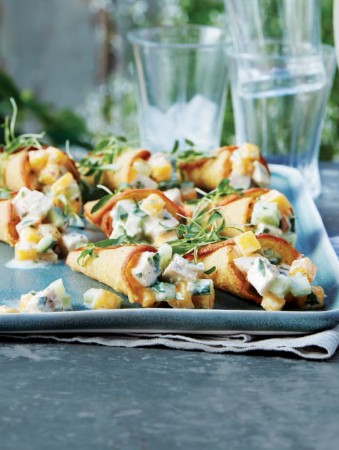 Curried Coconut Tuile Cones with Chicken Salad
Summer 2018
BY: Jennifer MacKenzie
Add interest to your appetizer selection with these tiny cones that are big on taste. The crispy, buttery, cone-shaped tuiles, fragrant with curry and toasted coconut, encircle a light, refreshing chicken salad with a punch of cilantro and ginger. Shaping the cones does take a little practice but once you get the hang of it, you'll be delighted with the results. Baking just three at a time allows you just enough time to shape the cones before they firm up too much. There are a few extra tuiles built into this recipe to allow for finessing your technique to perfect the shape (or tasters, as you may prefer to call them).
CURRIED COCONUT TUILE CONES
¼ cup (60 mL) butter
½ tsp (2 mL) Indian yellow curry paste
½ cup (125 mL) sweetened shredded coconut
2 tbsp (30 mL) all-purpose flour
2 egg whites
⅛ tsp (0.5 mL) salt

CHICKEN SALAD
¼ cup (60 mL) plain yogurt
1 tbsp (15 mL) chopped fresh cilantro
½ tsp (2 mL) finely grated fresh ginger
¾ cup (175 mL) diced grilled chicken (about 1 breast)
¼ cup (60 mL) finely diced peach or mango
¼ cup (60 mL) finely diced cucumber
Salt and freshly ground pepper
Cilantro sprigs
1. For the tuile cones, preheat oven to 350°F (180°C). Line 2 or more baking sheets with parchment paper or reusable nonstick baking mats. Shape a piece of foil into a cone, at least 5 inches (12 cm) long, pinching so it is about 1½ inches (4 cm) wide about 3 inches (8 cm) up from the point (this is your mould for the tuiles); repeat to make 2 more cone moulds.

2. Heat butter and curry paste in a small saucepan over low heat, stirring until butter is just melted (do not let it separate). Remove from heat and let cool almost to room temperature.

3. Grind coconut and flour in a mini-chopper, small food processor or in a spice grinder in batches, until coconut is finely chopped, but not completely powdery.

4. Whisk egg whites and salt in a small bowl until slightly frothy; whisk in butter mixture, then stir in coconut mixture until blended.

5. For each tuile, spoon 2 level tsp (10 mL) of batter onto prepared baking sheet. Using an offset palette knife or the back of a spoon, spread thinly into a circle, about 3 inches (8 cm) in diameter. Spread gently so the coconut pieces don't drag across leaving streaks or holes; the batter should make a solid layer. Repeat to make 2 more circles, spacing them at least 1 inch (2.5 cm) apart (they don't spread, but space between them makes them easier to shape after baking).

6. Bake, 1 sheet at a time, for about 10 to 12 minutes or until bubbling, brown around the edges and evenly golden in the centre (watch carefully so they don't get too crisp or burn).

7. Let cool on baking sheet for about 10 seconds, then working quickly, use a palette knife or carefully using your fingers, shape each circle around the foil cone; pinch where edges overlap and place seam-side down on another unlined baking sheet. Let cones cool until firm, then remove from foil moulds and let cool completely on a wire rack.

8. Repeat with remaining batter to make about 16 tuile cones. If reusing baking sheets, wipe off excess butter with a paper towel and let baking sheet cool between batches. Cooled cones can be stored in a cookie tin at room temperature for up to 3 days.

9. For the chicken salad, combine yogurt, cilantro and ginger in a bowl. Add chicken, peach and cucumber and stir to coat. Season to taste with salt and pepper. (Salad can be covered and refrigerated for up to 8 hours before serving.)

10. Just before serving, spoon chicken salad into cones (there is enough filling for about 12 cones). Arrange on individual plates or a serving platter and garnish with cilantro sprigs.
Makes 12 (with extra tuile cones)
SHARE