Curried Coconut Sweet Potato Soup
Holiday 2005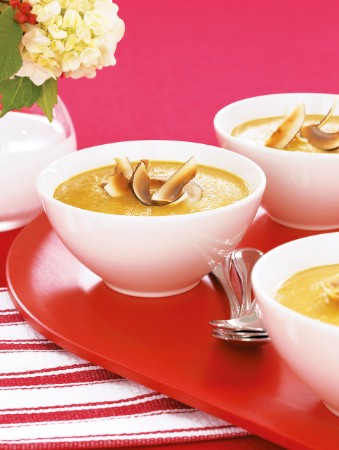 Curried Coconut Sweet Potato Soup
Holiday 2005
BY: Heather Trim
Transform leftover Sweet Potato Purée (recipe follows) into a silken smooth coconut curry soup.
1 tbsp (15 mL) butter
1 small onion, chopped
2 tbsp (25 mL) finely chopped peeled ginger
2 tsp (10 mL) mild or medium curry powder
½ tsp (2 mL) each ground cumin and ground coriander
2 cups (500 mL) Sweet Potato Purée (recipe follows)
1 ripe pear, cored, peeled and chopped
400 mL can coconut milk
1 cup (250 mL) chicken broth
1 to 3 tsp (5 to 15 mL) lemon juice
Salt to taste
Strips toasted coconut or coriander leaves
1. Melt butter in a large saucepan over medium heat. Add onion and ginger and cook, stirring occasionally, until nearly soft, about 3 minutes.
Stir in curry, cumin and coriander. Cook until fragrant, 1 minute.

2. Whisk in Sweet Potato Purée, pear, coconut milk and chicken broth. Increase heat to medium-high, then reduce heat, cover and simmer gently to allow flavours to blend, 10 minutes.

3. Purée in a food processor until smooth. Then turn into a sieve set over a clean saucepan. Using the bottom of a ladle, press mixture through sieve into pan. Stir in lemon juice and add salt to taste after sieving. Reheat and garnish with strips of toasted coconut or coriander leaves if you wish.

















Sweet Potato Purée
3 sweet potatoes, about 1¾ lb (875 g)
3 garlic cloves
½ cup (125 mL) milk
2 tbsp (25 mL) butter
¼ tsp (1 mL) ground ginger
Generous pinch ground nutmeg
¾ tsp (4 mL) salt
Pinch cayenne pepper
1. Preheat oven to 400ºF (200ºC).

2. Prick potatoes a few times. Place whole unpeeled potatoes on a baking sheet in centre of preheated oven. Bake 30 minutes. Place whole unpeeled garlic cloves on sheet and continue to bake until potatoes and garlic are tender, 15 to 25 more minutes.

3. When cool enough to handle, peel potatoes and garlic. Place both in a large saucepan set on low heat. Add milk, butter and seasonings. Mash until as smooth as you like.

Tip
If you're in a rush, peel and chop potatoes into chunks and set in a large saucepan along with peeled garlic. Cover with cold water, then add salt. Bring to a boil over high heat, then reduce heat and simmer until potatoes are very tender, about 20 minutes. Proceed as above. The texture isn't quite as good, but they are still delicious.



SHARE