Curried Chicken Naan 'Taco'
Début de l'été 2009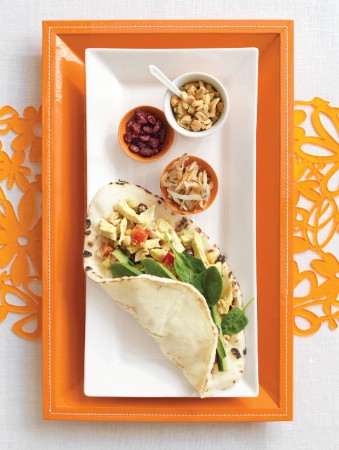 Curried Chicken Naan 'Taco'
Début de l'été 2009
BY: Marilyn Bentz-Crowley
Imaginative fillings folded inside flatbreads are popular (and delicious) all over the world. Pliable naan is perfect for such a sandwich. This recipe can be easily multiplied for a make-your-own buffet to serve numerous guests. Full-fat coconut milk is quite thick, unlike lighter versions. If the label doesn't mention the style, look for a count of about 160 calories per 1⁄4 cup (50 mL) in the nutritional information on the can.
2 to 2 1⁄2 cups (500 to 625 mL) bite-sized cooked chicken pieces
1 cup (250 mL) drained canned or cooked chickpeas
1⁄2 cup (125 mL) diced sweet red pepper
1 green onion, thinly sliced
2 tbsp (25 mL) golden or dark raisins
1⁄2 cup (125 mL) well stirred, full-fat coconut milk
2 tbsp (25 mL) orange juice
1 tsp (5 mL) palm or brown sugar
1 tsp (5 mL) curry powder
1⁄2 cup (125 mL) coarsely chopped salted cashews
4 naan breads
2 cups (500 mL) baby spinach
1 cup (250 mL) julienned or thinly sliced English cucumber
1. Toss chicken, chickpeas, red pepper, green onion and raisins in a medium bowl until combined. Stir coconut milk with orange juice, sugar and curry powder until sugar dissolves. Stir into chicken mixture. Cover and chill for 1 hour or up to a day.

2. When ready to serve, stir cashews into chicken mixture. Warm naan in toaster oven or in dry skillet set over medium-low heat.

3. Turn naan breads upside down; divide filling lengthwise down centre.Fold over and stuff with spinach and cucumber. Serve with extra raisins and cashews as well as toasted unsweetened coconut and coarsely chopped coriander, if desired.
SHARE