Curried Chicken & Kale Rice Porridge
Autumn 2015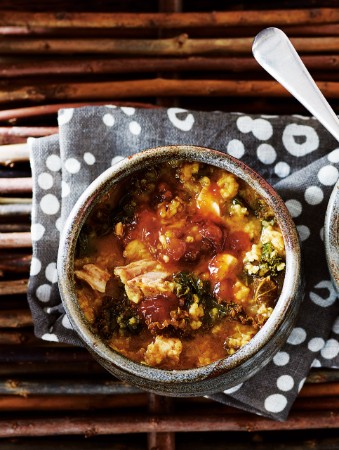 Curried Chicken & Kale Rice Porridge
Autumn 2015
BY: Christopher St. Onge
This comforting savoury porridge is inspired by the many different versions of congee eaten all over Asia. Here, with an Indian twist, the rice gently simmers in plenty of aromatic broth until it is very soft and begins to break apart. Look for the curry paste and mango chutney in the international aisle of large supermarkets.
3 tbsp (45 mL) vegetable or canola oil
1 large onion, finely chopped
4 cloves garlic, finely chopped
2 tbsp (30 mL) finely chopped ginger
3 tbsp (45 mL) mild curry paste
1 cinnamon stick, 2 inches (5 cm) long
3 whole cloves
8 cups (2 L) chicken stock
1 cup (250 mL) basmati rice
Salt
6 skinless, bone-in chicken thighs
8 cups (2 L), about 1 small bunch, chopped curly kale, tough centre rib removed
Mango chutney for garnish
1 Heat oil in a large pot over medium heat. Fry onion, stirring frequently, for 8 to 10 minutes or until golden. Stir in garlic, ginger, curry paste, cinnamon and cloves; cook 2 minutes longer.

2 Pour chicken stock into pot; bring to a boil. Add rice, reduce heat to low, cover and simmer for 45 minutes, stirring occasionally. Check for seasoning and add salt if necessary. Nestle chicken thighs into rice mixture, cover and return to a simmer. Cook for 10 minutes, or until chicken juices run clear. Remove chicken to a plate.

3 Stir in kale, cover and return to a simmer once again. Cook until kale is tender, about 10 minutes longer.

4 Meanwhile, remove chicken from bones and roughly chop. Once kale is cooked, stir in chicken, remove cinnamon, and divide between 4 large bowls. Cloves will soften as the porridge cooks and can be left in. Garnish each with mango chutney to taste.
SHARE