Curried Cauliflower Mousse
Temps des Fêtes 2005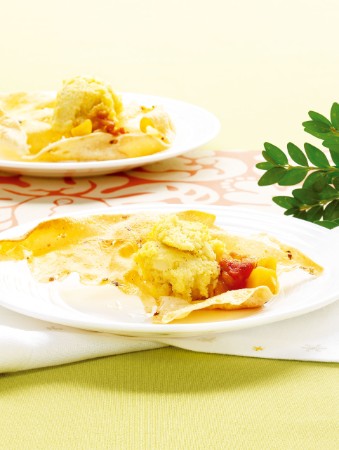 Curried Cauliflower Mousse
Temps des Fêtes 2005
BY: Dana Speers
Puréed cauliflower is positively decadent. Pappadums and peach chutney are available at Indian grocery stores.
1 small head cauliflower (about 1½ lbs (750 g), stalk and leaves removed
1 tsp (5 mL) olive oil
2 cloves garlic, sliced
½ tsp (2 mL) ground cumin
½ tsp (2 mL) ground coriander
¼ tsp (1 mL) ground turmeric
¼ tsp (1 mL) black cumin seeds
Large pinch red pepper flakes
¼ cup (50 mL) heavy cream
1 egg yolk
Salt and freshly cracked black pepper to taste
1 tsp (5 mL) lemon juice
Pappadums, for serving
Peach chutney, for serving
1. Separate cauliflower into florets and place in a colander set over a pan of simmering water. Steam cauliflower for 5 to 6 minutes or until soft when pierced with a knife.

2. Heat olive oil in medium nonstick skillet over medium heat. Add the garlic and spices and cook for 1 minute. Set aside.

3. Transfer cauliflower to a blender and add the cream and egg yolk. Purée until smooth. Transfer to a bowl and, using a rubber spatula, stir in the spice mixture, salt, pepper and lemon juice. Refrigerate for 3 hours.

4. Serve cauliflower mousse on pappadums with a dollop of peach chutney.
SHARE