Curried Beef Pot Pie
Holiday 2016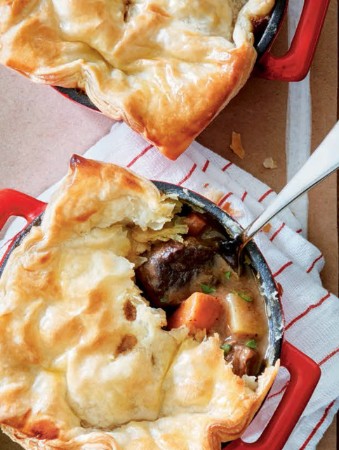 Curried Beef Pot Pie
Holiday 2016
BY: Eshun Mott
The rich and fragrant flavours of a British-style beef curry in a pot pie. If you choose to make individual pot pies instead of a large one, you may want to use extra puff pastry, as re-rolling scraps will make for an uneven topping.
2 lbs (1 kg) beef chuck or blade roast, cut into 1 inch (2.5 cm) pieces
Salt and freshly ground black pepper
1 tbsp (15 mL) canola oil
2 cups (500 mL) diced onion
1 tbsp (15 mL) chopped garlic
2 tbsp (30 mL) Madras curry paste
1 tsp (5 mL) garam masala
¼ cup (60 mL) all-purpose flour
3 cups (750 mL) sodium-free beef stock
2 tbsp (30 mL) Indian mango chutney (such as Major Grey)
1 tbsp (15 mL) balsamic vinegar
1½ cups (375 mL) diced carrot (½ inch/1 cm dice)
1½ cups (375 mL) diced Yukon gold potato (½ inch/1 cm dice)
¼ cup (60 mL) golden raisins
¼ cup (60 mL) chopped Italian parsley
8 oz (250 g) frozen butter puff pastry sheet, defrosted
1 egg yolk beaten with 1 tbsp (15 mL) cream
1 Season beef well with salt and pepper. Heat oil in a large Dutch oven or heavy pot over high heat. Working in batches, sear beef for 6 minutes, turning, or until browned all over. Remove to a plate and reserve.

2 Add onion and sauté for 5 minutes over medium-low heat or until lightly golden. Add garlic, curry paste and garam masala and sauté for 1 minute or until fragrant. Return beef to pot and stir to combine. Sprinkle flour over everything in pot and sauté for 1 minute or until everything is well coated. Pour in beef stock, scraping bottom to incorporate any browned bits, and bring to a boil. Cover pot, turn to a gentle simmer and cook for 25 minutes or until beef is tender. Add chutney, vinegar, carrot, potato and raisins and simmer for 15 minutes longer or until vegetables are tender and gravy is thick. Adjust seasoning to taste. Let cool. Stir in chopped parsley. (Stew can be assembled up to 2 days ahead, but rewarm to room temperature before proceeding with recipe.)

3 Heat oven to 375°F (190°C). Transfer stew mixture into a 6- to 8-cup (1.5- to 2-L) baking dish or use 4 to 6 individual pot pie dishes. Drape pastry over filling (stretch it slightly as needed), and loosely fold edges to get all the pastry inside the edge of the dish. Lift the pastry edge and moisten the edge of the dish with a little egg wash to adhere pastry. Brush top of pastry with egg wash and cut a few vents. Bake for 35 minutes or until pastry is golden and filling is bubbling.
SHARE