Cumin-Roasted Carrots with White Wine Glaze
Printemps 2018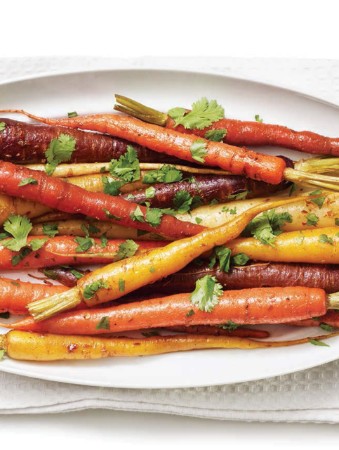 Cumin-Roasted Carrots with White Wine Glaze
Printemps 2018
BY: Julia Aitken
Use slender carrots for this easy side dish that showcases the roots' inherent sweetness. The carrots should be no thicker than 2 inches (5 cm) in circumference at their thickest point. If yours are chunkier, simply cut them in half lengthwise. For a striking presentation, choose a mixture of orange, white and purple carrots.
1 lb (500 g) slim carrots with tops
1 tsp (5 mL) cumin seeds
½ cup (125 mL) fruity white wine, such as Open Riesling-Gewürztraminer VQA (LCBO 134965), divided
2 tbsp (30 mL) olive oil
1 tbsp (15 mL) liquid honey
Pinch hot pepper flakes
Kosher salt and freshly ground black pepper to taste
1 fresh bay leaf
Finely chopped cilantro for garnish
1. Preheat oven to 400°F (200°C). Scrub carrots, then trim root ends. Trim tops of carrots to about 1 inch (2.5 cm). Set carrots aside.

2. In a large ovenproof skillet, toast cumin seeds over medium heat until fragrant, 1 to
2 minutes. Remove skillet from heat.

3. In a spice grinder or with a mortar and pestle, grind or pound cumin seeds just until coarsely ground.

4. In same skillet, whisk together ¼ cup (60 mL) wine, the oil, honey, cumin, hot pepper flakes and salt and pepper to taste. Add carrots and bay leaf to skillet and toss well to coat with wine mixture.

5. Cover skillet tightly with a lid or foil. Roast in oven until carrots are starting to become tender, 15 minutes.

6. Remove lid or foil from skillet. Roast carrots in oven, uncovered and tossing once or twice, until they are just tender, 10 to 15 minutes.

7. Wearing an oven mitt, remove skillet from oven. Transfer carrots to a serving platter and keep warm.

8. Still wearing oven mitt to hold skillet's handle, add remaining wine to skillet and bring to a boil over high heat, stirring to scrape up any browned bits from bottom of skillet. Boil, stirring often, until liquid in skillet has reduced by at least half and is slightly syrupy, about 2 minutes. Discard bay leaf.

9. Drizzle reduced cooking juices over carrots. Sprinkle with cilantro and serve warm or at room temperature.
Serves 4 to 6 as a side dish
SHARE