Cumin Lamb, Sweet Pepper & Onion Kebabs
Summer 2010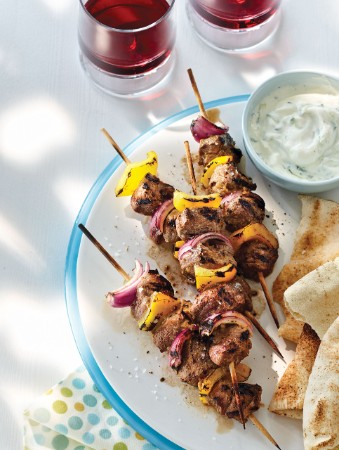 Cumin Lamb, Sweet Pepper & Onion Kebabs
Summer 2010
BY: Heather Trim
If you love lamb, but don't feel like grilling a whole leg, kebabs are the perfect solution. As most of the lamb in the supermarket is frozen, it's easiest to find these fresh cuts at a butcher shop or farmers' market.
¾ lb (375 g) boneless lamb, such as boneless leg
or tenderloin
¼ cup (50 mL) lemon juice
2 tbsp (25 mL) olive oil
2 tbsp (25 mL) finely minced ginger
2 garlic cloves, minced
2 tsp (10 mL) cumin
2 tsp (10 mL) liquid honey
1 large sweet pepper, preferably yellow
1 small red onion
Salt and black pepper
1. Cut lamb into bite-size chunks for threading onto skewers. In a bowl just large enough to hold lamb, whisk lemon juice with oil, ginger, garlic, cumin and honey. Add lamb and stir to coat. Refrigerate covered, turning occasionally, at least 4 hours but preferably overnight.

2. Oil grill and preheat barbecue to medium-high. Slice pepper and red onion into chunks. Thread onto skewers randomly with lamb. Sprinkle with salt and pepper. Grill, turning occasionally and basting with marinade until cooked through, about 7 to 10 minutes. Adjust heat as needed.

3. Remove to a platter. Excellent with grilled pita or flatbread, tzatziki and a tossed green or Greek salad.
SHARE