Cucumber Rolls with Smoked Trout
Early Summer 2005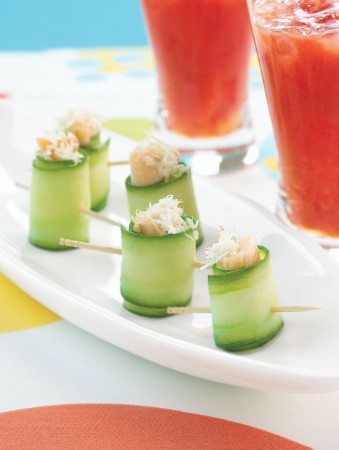 Cucumber Rolls with Smoked Trout
Early Summer 2005
BY: Jennifer McLagan
If you don't like smoked trout replace it with thin slices of rare roast beef. If you use beef, you will probably have to cut the slices in half lengthwise. You can make these up to an hour ahead of time.
1 English cucumber
Salt
1 smoked trout or 12 thin slices of roast beef
Lemon juice
½ cup (125 mL) freshly grated horseradish
1. Cut the cucumber in half crosswise. Using a vegetable peeler or a mandolin, cut thin strips lengthwise from each half, turning the cucumber as you reach the seeds. You want strips of cucumber with a band of green skin at the top and bottom. Trim the strips.

2. Divide the smoked trout into 24 pieces and squeeze over a little lemon juice. Place a piece of trout on each cucumber strip and roll up, securing with a toothpick. Top with grated horseradish.
SHARE