Cuban Stir-Fry of Pork, Black Beans and Sweet Potatoes
Spring 2004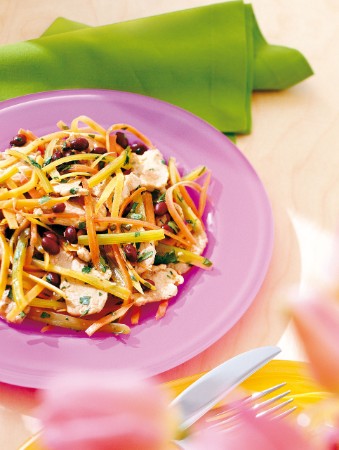 Cuban Stir-Fry of Pork, Black Beans and Sweet Potatoes
Spring 2004
BY: Lucy Waverman
A tasty stir-fry combining ingredients that are Cuban. Use canned black beans and shred the sweet potato on a mandolin or grater. This insures it cooks quickly in the skillet.
12 oz (375 g) pork tenderloin, sliced
Salt and freshly ground pepper
1 tsp (5 mL) ground cumin seeds
2 tbsp (25 mL) vegetable oil
1 tsp (5 mL) chopped garlic
1 cup (250 mL) shredded sweet potato
1 cup (250 mL) julienned celery
1 cup (250 mL) cooked black beans
1/4 cup (50 mL) orange juice
1/4 cup (50 mL) lime juice
1/2 cup (125 mL) chicken stock
1/4 tsp (1 mL) cayenne
1/4 cup (50 mL) chopped fresh coriander
1. Season pork with salt, pepper and cumin.
2. Heat oil in wok or skillet over high heat. Add pork and stir-fry for 3 minutes or until browned on outside but still pink in centre. Remove and reserve.
3. Add garlic to pan and fry 20 seconds. Add sweet potato, celery and black beans. Stir together and cook for 2 to 3 minutes or until vegetables are tender-crisp. Return meat and any juices to pan. Pour in orange juice, lime juice and chicken stock along with cayenne. Bring to boil then simmer 1 minute. Divide among 4 serving plates, sprinkle with coriander and serve immediately.

Tip: Have all the vegetables and protein cut the same size and shape for eye appeal and even cooking.


SHARE