Crusty Lamb Tagine
Autumn 2000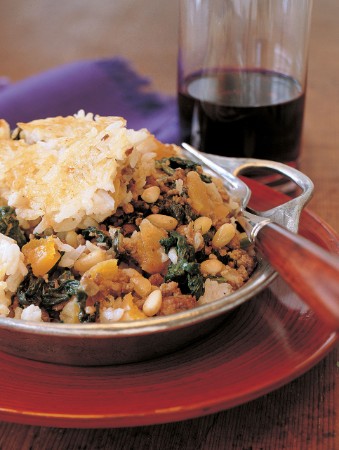 Crusty Lamb Tagine
Autumn 2000
BY: Lucy Waverman
This textured, one dish recipe has a crisp layer of rice topping fragrant lamb and a soft, steamy rice layer on the bottom. The seasonings used are Iranian and the dish is similar to an Iranian lamb and apricot stew. The dish can be made ahead of time and reheated before unmoulding. You can alter the filling by using ground beef or chicken instead of lamb. A tagine is a Moroccan cooking vessel, made of clay with a conical top. Any dish cooked in this kind of cooking pot is known as a tagine.
Rice
2 cups (500 mL) basmati rice
2 1/2 cups (625 mL) water
Salt and freshly ground pepper
¼ cup (50 mL) chopped coriander

Filling
1 tbsp (15 mL) olive oil
2 cups (500 mL) onion, chopped
1 ½ lbs (750 g) ground lamb
3 cloves garlic, chopped
2 tsp (10 mL) paprika
1 tsp (5 mL) cinnamon
¼ tsp (1 mL) cayenne or to taste
Salt and freshly ground pepper
3 cups (750 mL) washed, stemmed and sliced spinach
2 tbsp (25 mL) chopped fresh mint
½ cup (125 mL) chopped dried apricots
½ cup (125 mL) pine nuts
1 tbsp (15 mL) lemon juice
3 tbsp (45 mL) butter
1. Wash rice with cool running water. Place in a pot with fresh water. Bring to a boil, turn down heat, cover and simmer for 15 to 20 minutes or until rice is tender. Season rice with salt, pepper and coriander.

2. Heat olive oil in 10-inch (25-cm) non-stick skillet on medium heat. Add onion and sauté until softened about 3 minutes. Add lamb, garlic, paprika, cinnamon and cayenne. Sauté for 5 minutes or until lamb is cooked through. Season well with salt and pepper.

3. Add spinach to skillet and stir-fry until spinach wilts, about 1 to 2 minutes. Stir in mint, apricots, pine nuts and lemon juice. Cook everything together for 1 more minute and reserve. Wipe out skillet.

4. Heat butter in same skillet. Remove from heat and add half of rice, spreading it evenly on bottom and up sides. Layer with all of lamb mixture. Finish with remaining rice.

5. Make a hole down through the centre of the mixture with a wooden spoon. Cover; place on very low heat and cook for 35 minutes. Loosen sides. Set bottom of skillet into cold water for 2 minutes to help loosen crust. Uncover, place a serving plate on top of rice and reverse mixture on to plate. Crusty side will be up.
SHARE