Crushed Red Potatoes with Garlic
Holiday 2003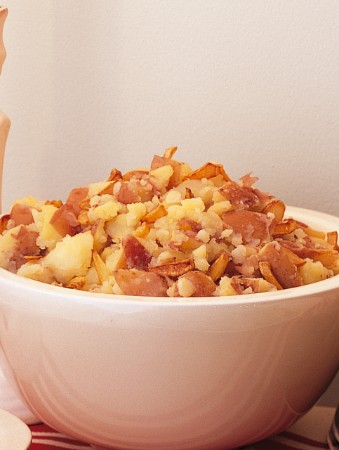 Crushed Red Potatoes with Garlic
Holiday 2003
BY: Lucy Waverman
Another take on mashed potatoes, this time using red potatoes. This buttery, delicious recipe is wonderful when studded with the fried garlic. These are best made the day of the dinner.
4 lbs (2 kg) red potatoes, scrubbed
Salt and freshly ground pepper
1 cup (250 mL) butter
8 cloves garlic, sliced
1. Cut potatoes into even-sized chunks. Place in cold salted water and bring to boil. Simmer until potatoes are tender, about 10 to 15 minutes. Drain potatoes well and place on turned-off heat for several minutes, shaking the pot occassionally, or until dry. Season with salt and pepper. Crush with a potato masher. There should be some texture in the potatoes.
2. Melt butter in skillet on low heat. Add garlic and sauté until golden, about 5 minutes. Reserve garlic separately. Pour butter over potatoes and gently combine. Pile in buttered serving dish and stud with garlic.
SHARE