Crushed Pea Crostini with Westphalian Ham
Early Summer 2018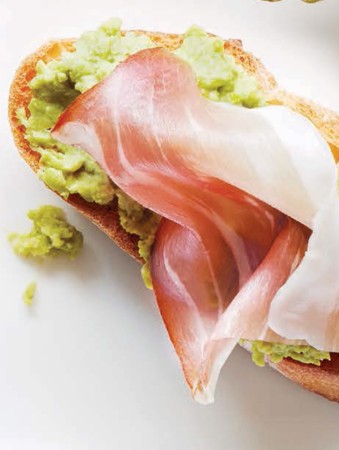 Crushed Pea Crostini with Westphalian Ham
Early Summer 2018
BY: Eric Vellend
Omit scallops, lemon and radish sprouts. Top each crostini with ½ thin slice of Westphalian ham.
CRUSHED PEA CROSTINI WITH SEARED SCALLOPS

The sweetness of peas and scallops are tempered by the sparkle of lemon juice and the peppery bite of radish sprouts. While it's hard to beat the quality and convenience of frozen peas, if you want to use fresh, you will need a little less than 1 lb (500 g) of peas in their pods to yield enough for this recipe.

1 cup (250 mL) fresh or frozen peas
2 tbsp (30 mL) water
1 tbsp (15 mL) extra virgin olive oil, plus more for brushing
1 tsp (5 mL) fresh lemon juice
Salt and freshly ground pepper to taste
1 tbsp (15 mL) vegetable oil
6 jumbo scallops
12 slices baguette, cut ½ inch (1 cm) thick on bias
2 cloves garlic, halved
½ lemon
Radish sprouts to garnish
1. Bring a medium pot of salted water to a boil. Add peas and cook until tender, 1 to 3 minutes. Drain and transfer to food processor. Add 2 tbsp (30 mL) water, olive oil, lemon juice, salt and pepper. Pulse to form coarse purée.

2. Heat vegetable oil in a medium nonstick frying pan over high heat. Pat scallops dry with paper towel. Season with salt and pepper. Cook scallops until golden brown but still slighty rare in middles, about 2 minutes per side. Transfer to plate lined with paper towel.

3. While scallops are cooking, preheat broiler to high.

4. Place baguette slices on a foil-lined heavy-duty baking tray. Broil 4 inches (10 cm) from heat until lightly browned, 1 to 2 minutes per side.

5. Rub bread with cut sides of garlic. Brush with olive oil. Top with some pea mixture. Slice scallops in half horizontally and place a half on each crostini. (For a heartier portion, but only 6 servings, place two halves on each crostini.) Squeeze lemon over scallops. Garnish with radish sprouts.
SHARE