Crunchy Tangled Vegetable Salad
Early Summer 2014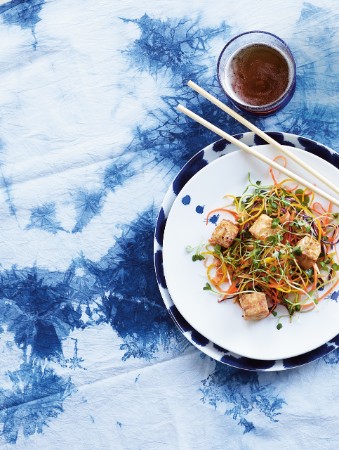 Crunchy Tangled Vegetable Salad
Early Summer 2014
BY: Eshun Mott
Use the newly popular and widely available spiral vegetable slicer to make a beautiful and healthful main course in minutes.
DRESSING
¼ cup (60 mL) fresh lime juice
3 tbsp (45 mL) canola oil
1 tbsp (15 mL) low sodium soy sauce
1½ tsp (7 mL) brown sugar
1 tsp (5 mL) sesame oil
½ tsp (2 mL) grated or very finely chopped fresh garlic
¼ tsp (1 mL) Sriracha or other Asian chili sauce

SALAD
2 large peeled carrots
2 medium peeled golden beets
1 small jicama, peeled
3 cups (750 mL) thinly sliced red cabbage
2 cups (500 mL) sunflower or other crunchy sprouts
¼ cup (60 mL) coriander leaves
¼ cup (60 mL) mint leaves

CRUNCHY TOFU CUBES
¼ cup (60 mL) canola oil
1 block (350 g) extra-firm tofu, cut into¾ inch (2 cm) cubes
⅓ cup (80 mL) cornstarch
¼ tsp (1 mL) salt
1 Combine lime juice, canola oil, soy sauce, brown sugar, sesame oil, garlic and Sriracha in a bowl and whisk until uniform. Reserve.

2 Use a spiral slicer to cut carrots, beets and jicama into long curly threads (or use either a mandolin or vegetable peeler to make long thin strips of vegetables). Combine with cabbage, half of sprouts and half of herbs in a serving bowl.

3 Heat oil in a large frying pan over medium-high heat. Pat tofu cubes dry with paper towels and toss with cornstarch. Fry for 5 minutes, turning occasionally, until golden. Drain on paper towels and season with salt.

4 Toss vegetable mixture with dressing. Top with crunchy tofu cubes, remaining sprouts and herbs.
SHARE